List of the 10 best rated episodes from the TV show Brooklyn Nine-Nine from the 68 listed on our webite. Order based on the average from the IMDB and TMDB ratings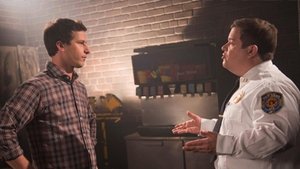 W
hen Jake makes an arrest without a lot of proof, he only has 48 hours to collect evidence, or else the "perp" will be released. After his unsuccessful interrogation of the suspect, Jake forces his co-workers to spend their weekend helping him crack the case. So, while the team is stuck at the precinct, Charles judges a pie contest between Gina and Rosa, and Holt helps Terry look better in the eyes of his in-laws.
View page
Watch online
2015
7.22
8.6
5.83333333333333
W
hen investigating a serial killer, Jake enlists Holt's help in an attempt to solve the case off the radar. At the precinct, Rosa and Amy are forced to deal with demands from an old adversary and Terry discovers a new obsession.
View page
Watch online
J
ake, Charles and Gina are involved in a real-life "Die Hard" situation while off-duty on Christmas Eve, and Terry must leave his family celebration to try to save his squad. Meanwhile, Amy tries to prove she's just as tough as Holt and Rosa.
View page
Watch online
W
hen Holt starts getting death threats, Jake takes charge of his security; Amy tries to get a precinct Christmas photo; Terry gets his mojo back.
View page
Watch online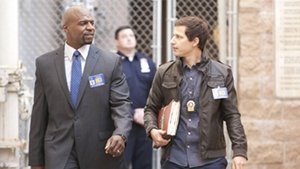 D
uring a weekend off, Jake decides to tackle a cold case that everyone thinks is unsolvable; Amy plans a trip with Teddy (Kyle Bornheimer); Rosa and Gina share a secret with Charles.
View page
Watch online
T
he officers in the precinct head over to Holt's house to celebrate his birthday, but they wind up making a poor impression on his husband.
View page
Watch online
T
he third installment of Captain Holt and Jake's Halloween heist culminates with a tie-breaking competition to claim the title of "amazing detective slash genius." This year, Jake and Holt split the squad into two teams to help them win.
View page
Watch online
J
ake's investigation of philanthropic civic leader Lucas Wint is shut down by Commissioner Podalski. Still determined to crack the case, Jake enlists Amy and a reluctant Captain Holt to help him uncover more evidence, even if it means facing suspension. Meanwhile, Charles is devastated over pre-marital problems with Vivian, and Gina knows just how to cheer him up.
View page
Watch online
J
ake and Amy go undercover to catch Brooklyn's most notorious identity thief, and the case brings them closer together – very close. Meanwhile, the entire precinct is caught off-guard when one of their own says goodbye to the Nine-Nine.
View page
Watch online
J
ake and Amy's ongoing bet about who can make more arrests comes to a close. Meanwhile, Charles receives the Medal of Valor for getting shot in the line of duty, but the pain medication he is taking causes him to reveal his true opinions about his colleagues.
View page
Watch online
A single-camera ensemble comedy following the lives of an eclectic group of detectives in a New York precinct, including one slacker who is forced to shape up when he gets a new boss.
Related articles