List of the best movies from the years 1950, in genre Romance. Order based on the average from the IMDB, TMDB and Rotten Tomatoes ratings
A
t the start of the first World War, in the middle of Africa's nowhere, a gin soaked riverboat captain is persuaded by a strong-willed missionary to go down river and face-off a German warship.
View page
Trailer
Watch online
B
rick, an alcoholic ex-football player, drinks his days away and resists the affections of his wife, Maggie. His reunion with his father, Big Daddy, who is dying of cancer, jogs a host of memories and revelations for both father and son.
View page
Trailer
Watch online
T
he sheriff of a small town in southwest Texas must keep custody of a murderer whose brother, a powerful rancher, is trying to help him escape. After a friend is killed trying to muster support for him, he and his deputies - a disgraced drunk and a cantankerous old cripple - must find a way to hold out against the rancher's hired guns until the marshal arrives. In the meantime, matters are complicated by the presence of a young gunslinger - and a mysterious beauty who just came in on the last stagecoach.
View page
Trailer
Watch online
C
onsidered one of the greatest films ever made, The Rules of the Game (La règle du jeu), by Jean Renoir, is a scathing critique of corrupt French society cloaked in a comedy of manners in which a weekend at a marquis' country château lays bare some ugly truths about a group of haut bourgeois acquaintances. The film has had a tumultuous history: it was subjected to cuts after the violent response of the premiere audience in 1939, and the original negative was destroyed during World War II; it wasn't reconstructed until 1959.
View page
Watch online
C
osseted European princess who goes AWOL in Rome and is soon taken under the wing of tabloid journalist Joe Bradley and his photographer sidekick, Irving Radovich. She thinks the boys don't suspect who she really is, but they're onto her -- and sense a sensational story if they can just keep Princess Ann handlers from retrieving her too soon.
View page
Trailer
Watch online
A
retired San Francisco detective suffering from acrophobia investigates the strange activities of an old friend's wife, all the while becoming dangerously obsessed with her.
View page
Trailer
Watch online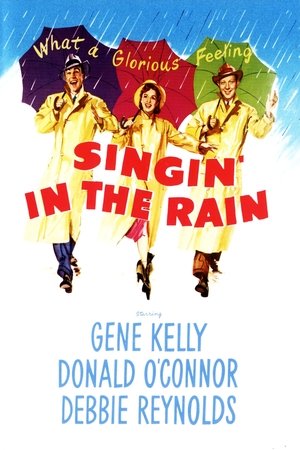 I
n 1927, Don Lockwood and Lina Lamont are a famous on-screen romantic pair. Lina, however, mistakes the on-screen romance for real love. Don has worked hard to get where he is today, with his former partner Cosmo. When Don and Lina's latest film is transformed into a musical, Don has the perfect voice for the songs. But Lina - well, even with the best efforts of a diction coach, they still decide to dub over her voice. Kathy Selden is brought in, an aspiring actress, and while she is working on the movie, Don falls in love with her. Will Kathy continue to "aspire", or will she get the break she deserves?
View page
Watch online
A
Broadway director helps the West Point cadets put on a show, aided by two lovely ladies and assorted complications.
View page
Watch online
A
hack screenwriter writes a screenplay for a former silent-film star who has faded into Hollywood obscurity.
View page
Trailer
Watch online
Related articles