List of the 10 best movies starring Naseeruddin Shah, order based on the average from the IMDB, TMDB and Rotten Tomatoes ratings
Role in movie: Ajay Narang
S
treet-wise musician Roop Singh Rathod must take his father, Shambunath to Mumbai in order to seek medical treatment for a throat aliment. Once in Mumbai Roop lands a job as a singer in a wealthy business-man Ajay Narang hotel. Roop's life takes a new turn when Ajay's only sister, Reshma fascinates him; unknown to her that Roop is in love with Pooja, a doctor by profession. When Reshma gets aware of this; she inform Ajay who will go to any length for his sister's happiness - even kill Roop.
View page
Watch online
Role in movie: Bhaskar Kulkarni
A
llegedly based on a true incident reported on page 7 of a local newspaper, the film was a scathing satire on the corruption in the judicial system and the victimization of the underprivileged by the able and the powerful.
View page
Watch online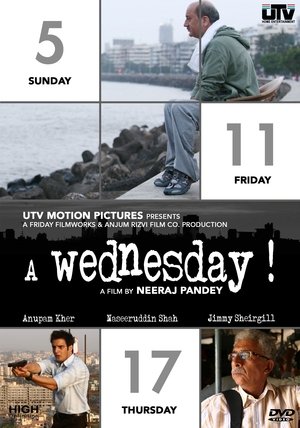 Role in movie: The Anonymous Caller
M
umbai, the financial capital of India, the city that never sleeps, the city of dreams, fast paced and ever changing, home to Bollywood! A City of beauty but also a city that got scarred! A city whose foundation is slowly crumbling beneath its façade of invincibility! 'A Wednesday!' tells the story of certain events that unfold between 2.P.M and 6 P.M on a particular Wednesday in this city.
View page
Trailer
Watch online
Role in movie: Ishaan Mirza
T
hree men are on death row. Jaggu (Jackie Shroff), a lawyer and a poet, is serving a sentence for murdering his wife because she was cheating on him with another man. Nagya (Nagesh Kukunoor), a man angry with the whole world, is arrested for murdering his wife too, but he claims that it was an accident where she falls off the sidewalk while they were talking. Ishaan (Naseeruddin Shah), a happy-go-lucky man, is also arrested for murder that he commits while in the act of robbery. The prison's custodian is Mohan (Gulshan Grover), who attempts several methods to reform the prison's inmates. A documentary filmmaker, Chandrika (Juhi Chawla) comes to the jail to set a film about these three men. In the process, she finds redemption to her troubled marriage.
View page
Watch online
Role in movie: Vinod Chopra
P
rofessional photographers Sudhir Mishra (Ravi Baswani) and Vinod Chopra (Naseeruddin Shah) open a photo studio in the prestigious Haji Ali area, and hope to make enough money to keep it running. After a disastrous start, they are given some work by the editor of "Khabardar", a publication that exposes the scandalous lives of the rich and the famous. They accept it and start working with the editor, Shobha Sen (Bhakti Barve), on a story exposing the dealings between an unscrupulous builder, Tarneja (Pankaj Kapoor), and corrupt Municipal Commissioner D'Mello (Satish Shah). During their investigation, they find out that another builder Ahuja (Om Puri) too is involved in this dealing.
View page
Watch online
Role in movie: Salman Habib
M
umbai-based Kabir Dhiman, who comes from a wealthy building construction family, proposes to his long-time girlfriend, Natasha, much to the delight of both their respective families. He then gets together with one of two of his close friends, Imran Habib, a writer by profession, and they contact their London-based financial broker friend, Arjun, to remind him of a pact of traveling to Spain. The trio commence their long overdue trip not fully realizing that Arjun has still not forgiven Imran for his break-up with Sunani, while he himself regrets being dumped by Rohini, and must also compete with Imran for the affections of gorgeous Deep Sea Diving Instructor, Laila; Kabir struggles to accept life as Natasha's husband; and Imran must ready himself to meet his biological father, Salman, who had abandoned him at birth.
View page
Trailer
Watch online
M
ahendra is in love with Maya and would like to marry her. But Maya is a woman of the 20th century, who does not believe in marriage, but would like to continue having a relationship. Mahendra's family pressures him into getting married, and he finally gives in and marries another woman by the name of Sudha. But Mahendra is unable to get Maya out of his mind, and his marriage with Sudha fails, and ends up with a formal separation. Years later, Mahendra and Sudha meet at a railway station, and both do remember each other, and share their experiences after their separation. There is one shocking experience that Maya does not share, but which Mahendra will find out soon.
View page
Watch online
K
eshya, a simple villager believes that god has arrived in his village but everyone disbelieves him. Later when the politics plays its part things take a drastic change
View page
Watch online
Role in movie: Inspector Purohit
M
acbeth meets the Godfather in present-day Bombay. The Scottish tragedy set in the contemporary underworld of India's commercial capital; two corrupt, fortune telling policemen take the roles of the weird sisters, and "Duncan" is Abbaji, the head of a crime family.
View page
Watch online
Role in movie: Maulana Wali
T
he film is about the difficult situation in which the Pakistanis in particular and the Muslims in general are caught up since 9/11. There is a war going on between the Fundamentalists and the Liberal Muslims. This situation is creating a drift not only between the Western world and the Muslims, but also within the Muslims. The educated and modern Muslims are in a difficult situation because of their approach towards life and their western attire. They are criticized and harassed by the fundamentalists and on the other hand the Western world sees them as potential suspects of terrorism just because of their Muslim names.
View page
Watch online
From Wikipedia, the free encyclopedia. Naseeruddin Shah (born 20 July 1950) is an Indian film actor and director. He is considered to be one of the finest actors of Indian cinema. In 2003, the Government of India honored him with the Padma Bhushan for his contributions towards Indian cinema. Description above from the Wikipedia article Naseeruddin Shah, licensed under CC-BY-SA, full list of contributors on Wikipedia​
View page with full filmography
Related articles