List of the 10 worst TV Shows in genre Action & Adventure, order based on the average from the IMDB and TMDB ratings
S
amurai 7 is a 2004 anime TV series, produced by Gonzo and based on Akira Kurosawa's highly regarded 1954 movie Seven Samurai. The series was directed by Toshifumi Takizawa and its music was composed by Kaoru Wada and Eitetsu Hayashi. There are 26 episodes, each costing around ¥32,500,000 to produce.
The series premiered across Japan on the anime satellite television network, Animax, as an exclusive high definition CS-PPV broadcast, and was also later aired by the network across its other respective networks worldwide, including Southeast Asia, South Asia, Latin America and other regions. Funimation Entertainment acquired the dubbing rights for the North American release. It previously aired in America through the Independent Film Channel in April 2006 and in high definition on Dish Networks Animania HD channel. It has also been broadcast across Canada by specialty channel Razer and across Hong Kong by TVB Jade. The Funimation Channel aired the series on September 6, 2010. It began airing on Adult Swim's revived Toonami block on August 19, 2012. and ended its run on February 10, 2013.
View page
Watch online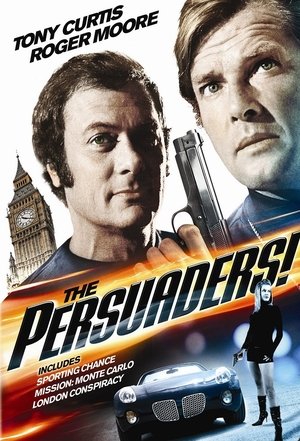 T
he Persuaders! is a 1971 action/adventure series, produced by ITC Entertainment for initial broadcast on ITV and ABC. It has been called "the last major entry in the cycle of adventure series that had begun eleven years earlier with Danger Man in 1960", as well as "the most ambitious and most expensive of Sir Lew Grade's international action adventure series". The Persuaders Series was filmed in France, Italy and England between May 1970 and June 1971.
Despite its focus on the British and American markets, the show was popular elsewhere. It won its highest awards from Australia and Spain, while Roger Moore and Tony Curtis were decorated in Germany and France for their acting. It persists in the memory of European filmmakers and audiences, having been casually referenced in 21st century productions from Sweden, France, Britain and Germany.
View page
Watch online
R
elic Hunter is an anglophone Canadian television series, starring Tia Carrere and Christien Anholt. Actress Lindy Booth also starred for the first two seasons; Tanja Reichert replaced her for the third. It was inspired by the success of the video game Tomb Raider.
It centers around Sydney Fox who is a professor but primarily a globe-trotting "relic hunter", looking for ancient artifacts to return to museums and/or the descendants of the original owner. She is aided by her linguistic assistant Nigel and occasionally by her somewhat air-headed secretary Claudia. She often ends up battling rival hunters seeking out artifacts for the money. The series includes fantasy and science fiction elements, with many of the relics featured having genuine supernatural powers or being pieces of unusually advanced technology.
It ran for three seasons in the U.S. between 1999 and 2002 after fulfilling its initial three-season, 66-episode contract, from which it was not renewed. In both Ireland and the United Kingdom, it is aired on Sky1 and subsidiary channels, while in Canada, it is aired on CityTV and Space, CTV's sister network A-Channel and recently Showcase. The series was shot in the Toronto area, explaining Carrere's frequent attendance in courtside seats at Toronto Raptors games during the time.
View page
Watch online
K
night Rider was a 2008 series that follows the 1982 TV series of the same title created by Glen A. Larson and the 2008 television movie. The series stars Justin Bruening as Mike Traceur, the estranged son of Michael Knight. The series also stars Deanna Russo as Sarah Graiman, Traceur's former girlfriend and love interest. Sarah is the daughter of Charles Graiman. Graiman is played by Bruce Davison, the creator of a new generation of KITT, voiced by Val Kilmer. The series was in production for just one season.
View page
Watch online
T
he Cape is an American superhero drama series. It premiered on NBC during the 2010–2011 television season as a mid-season replacement beginning with a two-hour pilot episode on Sunday, January 9, 2011 at 9 pm Eastern and Pacific Time. An encore played on Monday, January 10, with follow-up episodes continuing on Monday evenings in the 9 pm timeslot beginning on January 17. NBC subsequently cut the total number of episodes to be aired from 13 to 10 as a result of low ratings. On March 2, 2011, NBC announced that the series finale would be aired only on the network's website.
View page
Watch online
F
lash Gordon is an American science fiction television series that debuted on Sci Fi in the United States on August 10, 2007 and continued airing new episodes through February 8, 2008. It has also appeared on the United Kingdom Sci Fi Channel and SPACE in Canada. The series was developed by Peter Hume, who served as executive producer/show runner and wrote the first and last episodes, among others.
View page
Watch online
B
aywatch is an American action drama series about the Los Angeles County Lifeguards who patrol the beaches of Los Angeles County, California, starring David Hasselhoff. The show was canceled after its first season on NBC, but survived and later became one of the most watched television shows in the world. The show ran in its original title and format from 1989 to 1999, except for the 1990–1991 season, during which it was not in production. From 1999 to 2001, with a setting change and large cast overhaul, it was known as Baywatch Hawaii.
Baywatch premiered on NBC in 1989, but was canceled after only one season when it placed 73rd out of 103 shows in the seasonal ratings and also because the studio, GTG, went out of business. Feeling the series still had potential, Hasselhoff along with creators and Executive Producers Michael Berk, Douglas Schwartz and Greg Bonann revived it for the first-run syndication market in 1991. Hasselhoff was given the title of Executive Producer for his work on bringing the show back. The series was hugely successful, especially internationally. The show led to a spin-off: Baywatch Nights, and a reunion movie, Baywatch: Hawaiian Wedding.
In 1999, with production costs rising in Los Angeles, and the syndication market shrinking, the plan was to move the show to Australia and launch Baywatch Down Under. A pilot was filmed but the series was stopped when residents of Avalon put forth strong objections, including potential damage to a fragile ecosystem. Pittwater Council permanently barred all future filming. This pilot finally aired as a two-part episode of Baywatch.
View page
Trailer
Watch online
W
alker, Texas Ranger is an American television action crime drama series created by Leslie Greif and Paul Haggis, both starring Chuck Norris as a member of the Texas Ranger Division. The show aired on CBS in the spring of 1993, with the first season consisting of three pilot episodes. Eight full seasons followed with new episodes airing from September 25, 1993 to May 19, 2001 and reruns continuing on CBS until July 28, 2001. It was broadcast in over 100 countries, and has since spawned a made-for-television movie, entitled Trial By Fire. The movie ended on a cliffhanger, which, as of 2013, has not yet been resolved. DVD sets of all seasons have been released. At various times since 1997, reruns of the show have aired, in syndication, on the USA Network and Action in Canada. As of September 13, 2010, the series is shown on WGN America.
The show was known for its moral values. For example, the characters refrained from the use of drugs, and they participated in community service. Martial arts were displayed prominently as the primary tool of law enforcement and occasionally as a tool for Walker and company to reach out to the community. The show has since become one of the most popular action shows in television history and has gained a cult following for its camp appeal.
View page
Watch online
C
HiPs is an American television drama series produced by MGM Studios that originally aired on NBC from September 15, 1977, to July 17, 1983. CHiPs followed the lives of two motorcycle police officers of the California Highway Patrol. The series ran for 139 episodes over six seasons.
View page
Watch online
S
onic X is an anime series based on the Sonic the Hedgehog video game series. It was created by Sonic Team and produced in Japan by TMS Entertainment. It aired on TV Tokyo from April 6, 2003 to March 28, 2004 and on Kids Station from 2004 to 2005. In the United States, Saban Brands currently owns and manages the copyright and branding of the series.
View page
Watch online
Related articles