List of the 10 best movies starring Simon Yam, order based on the average from the IMDB, TMDB and Rotten Tomatoes ratings
M
ichelle takes off for Europe to contemplate her inevitable divorce. She meets the beautiful Miki, a Japanese model who tries to end a relationship with a married man. There is nothing like love trouble to foster a quick bond and the women become close friends. However, Miki discloses by accident that...
View page
Watch online
Role in movie: Detective Chan
C
han, an articulate senior detective nearing the end of his career, is taking care of the daughter of a witness killed by ruthless crime lord Po. Martial arts expert Ma is set to take over as head of the crime unit, replacing Chan who wants an early retirement.
View page
Watch online
A
s election time nears, current Triad chairman Lok (Simon Yam) faces competition from his godsons. At the same time, Jimmy (Louis Koo) looks to increase his business relations with mainland China.
View page
Trailer
Watch online
Role in movie: Suspect (Cameo)
H
A Yoon-ju becomes the newest member to a unit within the Korean Police Forces Special Crime Department that specializes in surveillance activities on high profile criminals. She teams up with HWANG Sang-Jun, the veteran leader of the unit, and tries to track down James who is the cold-hearted leader of an armed criminal organization.
View page
Trailer
Watch online
A
friendship is formed between an ex-gangster, and two groups of hitmen - those who want to protect him and those who were sent to kill him.
View page
Trailer
Watch online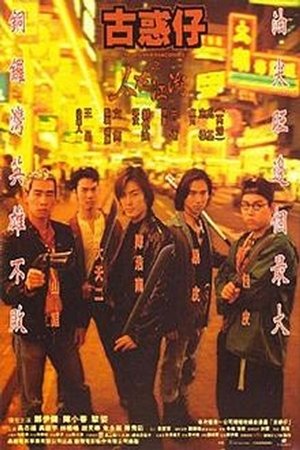 Role in movie: Boss Chiang Tin-Sung
A
ndrew Lau Wai-keung spins this mobland thriller adapted from Niu Lo's cult comic book Cow Man. The film opens with members from the Hung Hing Society whacking another gangster from a rival group who is deep in debt. A comrade with the slain man, sociopathic crime boss Ugly Kwan (Francis Ng Chun-yu) vows revenge and sets his sites on Hung Hing members Chan Ho-nam (Dior Cheng Yee-kin) and Chicken Chiu (Jordan Chan Siu-chan). The two are spirited away to Macau only to be jumped by Kwan's henchmen. Chan's friend is killed while Chan is captured, drugged, and shot on tape having sex with Chicken's girlfriend. Crushed by his friend's perceived betrayal, Chicken leaves for Taiwan while Chan is punished by his gang. Meanwhile, Kwan plots to take over the Hung Hing Society.
View page
Watch online
Role in movie: Zhou Qing Quan
H
aving defeated the best fighters of the Imperial Japanese army in occupied Shanghai, Ip Man and his family settle in post-war Hong Kong.Struggling to make a living, Master Ip opens a kung fu school to bring his celebrated art of Wing Chun to the troubled youth of Hong Kong. His growing reputation soon brings challenges from powerful enemies, including pre-eminent Hung Gar master, Hung Quan (Sammo Hung). However, when corrupt colonial officials stage a life-or-death contest with formidable British boxer, Twister (Darren Shahlavi), to humiliate the Chinese people, the masters quickly forget their differences. Soon, the eyes of the nation are on the one man capable of securing a victory-Grandmaster Ip Man!
View page
Trailer
Watch online
Role in movie: Chow Ching-Chuen
A
semi-biographical account of Yip Man, the first martial arts master to teach the Chinese martial art of Wing Chun. The film focuses on events surrounding Ip that took place in the city of Foshan between the 1930s to 1940s during the Second Sino-Japanese War. Directed by Wilson Yip, the film stars Donnie Yen in the lead role, and features fight choreography by Sammo Hung.
View page
Trailer
Watch online
S
et in late 19th century Canton this martial arts film depicts the stance taken by the legendary martial arts hero Wong Fei-Hung (1847-1924) against foreign forces' (English, French and American) plundering of China.
View page
Trailer
Watch online
W
hen three close friends escape from Hong Kong to war-time Saigon to start a criminal's life, they all go through a harrowing experience which totally shatters their lives and their friendship forever.
View page
Watch online
From Wikipedia, the free encyclopedia. Simon Yam Tat-Wah, born March 19, 1955, is a Hong Kong actor and film producer. Description above from the Wikipedia article Simon Yam Tat-Wah, licensed under CC-BY-SA, full list of contributors on Wikipedia.
View page with full filmography
Related articles