List of the 10 best rated episodes from the TV show Friends from the 235 listed on our webite. Order based on the average from the IMDB and TMDB ratings
M
onica and Chandler visit their house, which is in escrow, where Joey is comforted about losing his friends by the 8-year-old girl who presently lives there. Phoebe learns that she can change her name to whatever she wants, which turns out to be Princess Consuela Bananahammock. After Mike changes his name to Crap Bag, she decides to just be Phoebe Buffay-Hannigan. Ross gets tenure at his job. Rachel's boss is sitting next to her at an interview, and she loses her job. However, she runs into her old friend Mark, who offers her a job in Paris.
View page
Watch online
W
ith Rachel leaving tomorrow, the gang throws her a small going away party. She says goodbye to each of her friends individually, except for Ross. He gets mad and the two of them end up in a passionate kiss after she explains that she was putting it off because of how hard saying goodbye to him would be. Meanwhile, Erica is in town until the baby arrives and she ends up going into labor at the party.
View page
Watch online
J
oey lands a role in Law & Order, and his Italian-speaking grandmother comes over to watch his network debut. Meanwhile, Ross tries unsuccessfully to flirt with the pizza delivery girl.
View page
Watch online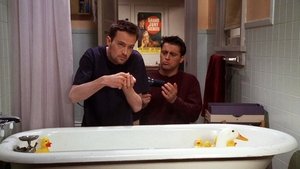 M
onica considers a dream job in Pete's new restaurant, but Phoebe fears there is more to the deal. Joey and Chandler adopt a baby chick and a duck. And Ross misses a panel for the Discovery Channel to help Rachel, who may have a broken rib.
View page
Watch online
P
hoebe's bachelorette party features a rather unexpected surprise when the stripper shows up. Joey is on ""Pyramid."" Chandler and Ross flash back to 1987 to reflect on a pact they made when they were in college.
View page
Watch online
W
hile visiting an art museum, Monica puts her name on a two-year waiting list to use the museum for a wedding. When Paul threatens to fire Ross if he doesn't stop seeing his daughter, Ross and Elizabeth take a trip up to her dad's mountain cabin. Unfortunately, Paul has the same idea and takes Rachel up to the cabin.
View page
Watch online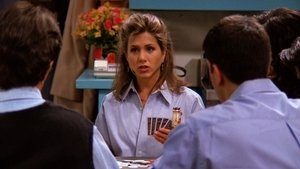 T
ired of being referred to by customers as "Excuse me" Rachel interviews for a job as an assistant buyer at Saks Fifth Avenue. She also sees another side of the usually docile Ross when the girls face the boys during a not-so-friendly game of poker.
View page
Watch online
E
motions become the feast of the day when the gang plays a game of touch football on Thanksgiving as Joey and Chandler argue over who gets to date a model and Ross and Monica argue over winning in a case of sibling rivalry.
View page
Watch online
S
peculation regarding the father of Rachel's baby leads to a misunderstanding when Joey discovers a red sweater left behind in a one-night stand Rachel had. Meanwhile, Chandler and Ross search for the disposable cameras left behind at the wedding and Monica goes on an opening-present binge.
View page
Watch online
J
oey and Chandler guess all the items that Monica and Rachel had in a bag after coming home from the market. This starts a competition between the boys and the girls, a question-answer game created by Ross. The sex that knows the most about the other one wins. Meanwhile, Phoebe goes to the doctor to get the embryos implanted in her uterus. The game ends tied, so Ross prepares the "Lightning Round." Monica and Chandler raise the bet: if the girls win, the boys get rid of the chick and the duck, but if the boys win, they have to switch apartments. At the end, the boys win because the girls don't know Chandler's job. Just when the two couples are changing apartments, Phoebe surprises everyone announcing she is pregnant.
View page
Watch online
Friends is an American sitcom created by David Crane and Marta Kauffman, which aired on NBC from September 22, 1994 to May 6, 2004. The series revolves around a group of friends in the New York City borough of Manhattan. The series was produced by Bright/Kauffman/Crane Productions, in association with Warner Bros. Television. The original executive producers were Crane, Kauffman, and Kevin S. Bright, with numerous others being promoted in later seasons. Kauffman and Crane began developing Friends under the title Insomnia Cafe in November/December 1993. They presented the idea to Bright, with whom they had previously worked, and together they pitched a seven-page treatment of the series to NBC. After several script rewrites and changes, including a second title change to Friends Like Us, the series was finally named Friends and premiered on NBC's coveted Thursday 8:30 pm timeslot. Filming for the series took place at Warner Bros. Studios in Burbank, California in front of a live studio audience. The series finale, airing on May 6, 2004, was watched by 52.5 million American viewers, making it the fourth most watched series finale in television history and the most watched episode of the decade.
Related articles