List of the 10 best rated episodes from the TV show Full House from the 114 listed on our webite. Order based on the average from the IMDB and TMDB ratings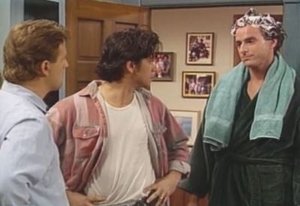 T
easer: Michelle helps Joey move into the bedroom that used to be Jesse's bedroom. Main Synopsis: Stephanie wants to be just like D.J., so she starts dressing like D.J., and tries to act like D.J., who is getting ready to go to the food court of a local mall with Kimmy. D.J. wants to wear something ""fun"" to the mall, so she, Kimmy, Stephanie, and Michelle head to Danny's bedroom, where D.J. starts looking for something to wear from Danny's closet. Stephanie tries to do the same thing, but when D.J. tries to stop her, they end up accidentally pulling out the rod that Danny's shirts are hung on. This is when D.J. and Stephanie argue over who is going to put the rod back in the closet, and when D.J. tells Stephanie to let go of the rod, that's exactly what she does -- and accidentally sends the rod into the wall, putting a hole in the wall. That's when Kimmy goes home. The girls go to the attic, where Jesse is working on renovating the attic and not letting Joey do anything to help him.
View page
Watch online
T
easer: D.J. waits for a phone call from a guy named Jeremy. Main Synopsis: Stephanie's dance teacher has told Stephanie that Stephanie has the potential to become a professional dancer. It would be a dream come true for Stephanie, but it means taking special classes before and after school and on weekends, an earlier bedtime, and less TV. Stephanie convinces Danny to let her have a shot at it. As a result, Stephanie no longer has enough free time to spend with friends and family, and she has a dance recital coming up, and Danny is more excited about it than Stephanie is. On the night of the recital, Danny tells Stephanie that if the director of the Bayview Dance Academy, who is in the audience, likes Stephanie's performance, Stephanie can get into Bayview's summer dance camp. Minutes later, the recital begins, and Stephanie messes it up on purpose. Stephanie then tells Danny that she wants things to go back to the way they were, when she had the time to spend with friends and family
View page
Watch online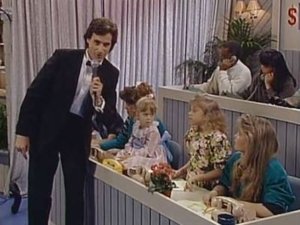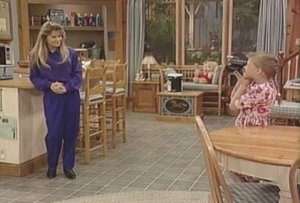 T
easer: Danny tells Michelle that she'll be the flower girl at the wedding. Main Synopsis: It's the day before Jesse and Becky's wedding. Stephanie and D.J. are using Danny's camcorder to tape the events leading up to the wedding, and they also intend to tape the wedding. Becky's sister Connie Anderson has arrived and brought her son Howie with her, but Michelle and Howie don't remember each other from when Connie and Howie visited 2 years ago. Minutes later, Becky's parents Kenneth and Nedra arrive. Kenneth explains that they would have arrived earlier, had a man on a motorcycle not cut them off. Jesse shows up and explains that he would have been home earlier if he had not been stuck behind a slow driver. When Kenneth and Jesse see each other's faces, Kenneth realizes that Jesse was the man on the motorcycle and Jesse realizes that Kenneth was the slow driver. From the start, it seems that Jesse and Kenneth can't get along with each other. Later, Kenneth has a talk with Jesse, and
View page
Watch online
D
anny's mother who had been living with the Tanner's for a few weeks leaves. She was there because Danny's wife Pam died in a car accident. Danny has arranged so his brother and law, Jesse Cochran would come and live with the Tanner's. He also made arrangements so that his friend Joey Gladstone would help out and live with the Tanner's. This causes Stephanie and DJ to have to share a room which angers DJ and causes her to move into the garage.
View page
Watch online
T
easer: A recap of part 1. Main Synopsis: A tomato filled truck driven by a tomato farmer parks under Jesse, who releases himself from the parachute, and falls safely into the bed of the truck. The farmer tells Jesse he's in a town known as ""Tomato Country"". Jesse then tries to use the farmer's truck to go to the church for the wedding, but that's when a cop shows up. By now, it's 10:25am, and Jesse is 25 minutes late for the wedding. The phone at the church rings, and it's Jesse, who tells Becky that he's in jail in Tomato Country. Becky heads to the jail and gets Jesse released. They make it back to the church, where they are pronounced husband and wife. After a party at the Tanner home, Jesse and Becky leave for their honeymoon.
View page
Watch online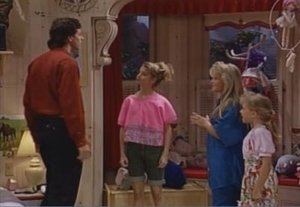 T
easer: Jesse shows his redecorated bedroom to Stephanie and Michelle. Main Synopsis: Michelle encourages Stephanie and D.J. to have a pillow fight with her, and a window ends up getting broken during the pillow fight. Danny punishes D.J. and Stephanie, but he fails to punish Michelle, who started the whole thing. This is because Danny is having a hard time realizing that Michelle, who is almost four-years-old, is old enough to be punished. When D.J. and Stephanie open Danny's eyes to the situation, they give Danny the courage to give Michelle her first punishment. Meanwhile, Jesse buys an expensive engagement ring for Becky, who tries to stop Jesse from selling his Elvis Presley signed guitar in order to pay for the ring.
View page
Watch online
T
easer: Michelle can't fall asleep because she's worried about kindergarten. Main Synopsis: Jesse is back home from the tour that he and the Rippers went on over the summer, and an ultrasound shows that Becky is carrying twins. While this thrills Becky, the same can't be said for Jesse, who feels afraid of what is now a double responsibility that awaits him, because he doesn't want to mess up in any way as a father. The family helps Jesse come to grips with this fear, and Jesse is happy about Becky carrying twins, and they have told Dr. Sinclair that they want to wait until birth to know what gender the babies are. Meanwhile, as the new school year starts, Stephanie is nervous about entering 4th grade, until she meets her new teacher, Mr. Lowry, whom she now has a crush on. Michelle is worried about what kindergarten will be like, until she befriends Teddy, one of her new classmates.
View page
Watch online
T
easer: Jesse and Becky have arrived home from their honeymoon. Main Synopsis: Jesse and Becky return from their honeymoon, which took place in Bora Bora, an island near Tahiti. Becky reminds Jesse that he needs to start packing if he's going to move to Becky's home. Michelle doesn't take this very well, because she doesn't want Jesse to move out, so Michelle starts packing to go with Jesse, who explains things to Michelle. Jesse's belongings are moved to Becky's house, but Jesse still has feelings of emptiness. Danny and Joey can't seem to cheer Michelle up, until Jesse arrives for a visit on the next morning. Becky sets it up to where she and Jesse will be spending the night at the Tanner house, sleeping on two cots in the attic. That night, Becky tells Jesse that she talked to Danny, who has agreed to let Jesse renovate the house's 1300 square foot attic into a family sized apartment so Jesse doesn't have to move out. As a result, a new arrangement is made -- Joey will move into J
View page
Watch online
T
easer: Joey plays baseball with Michelle. Main Synopsis: Jesse wants to have a romantic night with Becky, who tells Jesse that she can't because she is scheduled for a business dinner with Beau McIntyre, a former football player who is scheduled to be a guest on ""Wake Up, San Francisco"", and this makes Jesse jealous. There are 20 minutes left until Stephanie has to be at dance class, so what is there to do until then? She can't get anyone to listen to her about how her day has gone so far, even Joey, who is preoccupied with his new car ""Rosie"". When Joey sees a nick in Rosie's paint, he leaves with Comet to go to Sid & Jean's Auto Supplies to buy a bottle of touch up paint. While Joey is gone, Stephanie gets inside of ""Rosie"" so she'll have something to do. As she is sitting in the driver's seat, she decides to turn the radio on, and after messing with the radio, and it doesn't come on, Stephanie turns the key, hoping that she's turning it toward the auxiliary option that allows you
View page
Watch online
Full House is an American sitcom television series. Set in San Francisco, the show chronicles widowed father Danny Tanner, who, after the death of his wife Pam, enlists his best friend Joey Gladstone and his brother-in-law Jesse Katsopolis to help raise his three daughters, D.J., Stephanie, and Michelle.
Related articles