List of the 10 best rated episodes from the TV show Beverly Hills, 90210 from the 139 listed on our webite. Order based on the average from the IMDB and TMDB ratings
T
he Walshes celebrate their seventeenth anniversary, but Cindy feels dissatisfied because Jim is neglecting her for his work. She has a chance meeting with old flame Glen, a talented artist. The two spend a lot of time together, and share a kiss after Glen's opening. Brandon and Brenda take part in a college study on twins, but are distracted by their parents' marital problems. David becomes the new campus DJ after Steve chokes in his tryout.
View page
Watch online
E
mily flies back from Paris to attend a seminar at La Jolla. She asks Brandon to meet her at the airport, claiming to have just a four-hour layover. She actually has a week until the beginning of her seminar, but Brandon breaks her heart by revealing that he is dating Kelly. When he sees her back to her hotel room, they share a passionate kiss. Steve and Griffin organize a holiday rave at an abandoned house. Valerie helps them out in the hopes of getting back in Steve's good graces. David and Clare accidentally post the notice about the event on a computer bulletin board for lesbians, who constitute most of the guests. The house has very poor wiring and continually blows fuses. Griffin uses too much electricity, and the house catches on fire. Ray rescues Steve and Valerie, who were fooling around in one of the bedrooms. Kelly and a girl named Allison are trapped in a downstairs bathroom with no means of escape. The fire fighters try to reach them as they are engulfed by flames.
Music:
View page
Watch online
L
enny is released, as he has an alibi and the victim (an acquaintance) clears him. He confesses to David that he served time for sexual assault; he may have taken part in a rape while wandering the streets in a drunken stupor during his tour in the gulf. The outraged students try to run Lenny off campus, and Brandon agrees to help him transfer to another school. Valerie convinces Donna that David is to blame for Ray's departure. David and Donna get into a screaming match. Lenny reveals that Garrett Slan, a CU cafeteria worker, also spent time in a military prison. Brandon warns Clare that Garrett may be fixated on her, but he has moved on to Donna. Garrett breaks into the beach apartment, holds Donna at knifepoint, and tries to rape her. David interrupts as he comes over to apologize to Donna. She lets him know that something is amiss by calling him ""Dave,"" and he bursts in and hits Garrett in the head with a baseball bat. Dylan decides to help Charley turn his screenplay into a motion
View page
Watch online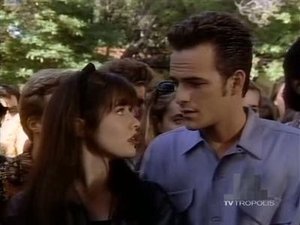 T
he students of West Beverly unearth a time capsule from 1941, and put together a capsule of their own. Mrs. Scanlon organizes a surprise party for Scott's birthday, and pushes David to round up the guests. Donna is the only person who wants to attend. Kelly, Steve, Brenda, Brandon and Emily reluctantly come to the party, but act like jerks and refuse to participate in the activities. David tries to save the party by getting everyone to dance, but Brandon and Emily sneak upstairs to make out in the bedroom of Scott's little brother. Mrs. Scanlon throws them out, and the others act really indignant and walk out on the party. Scott goes to his father's den to get matches for the cake, and finds a gun in a locked desk drawer. He tries to twirl it for David, but accidentally shoots himself in the stomach and dies. David's friends and teachers annoy him by constantly asking about his well-being, while Mrs. Scanlon keeps trying to give him Scott's belongings. Donna takes offense when David c
View page
Watch online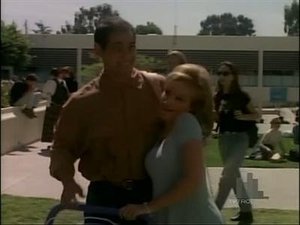 D
ylan asks Kelly to join him on a trip around the world. Valerie sees the tickets in Kelly's room and tells Brandon. Brandon counters with a marriage proposal, and Kelly asks for time to think things over. She eventually rejects both men and proclaims, ""I choose me."" Andrea and Jesse prepare for their move to Connecticut. The gang surprises her by organizing a picnic lunch at West Beverly High (although Brandon and Dylan, still waiting for Kelly's decision, opt not to attend). Everyone meets Andrea and Jesse at the Peach Pit one last time to say goodbye. Ray lashes out at Donna for devoting time to her friends and studying for finals. He drags her away from Andrea's picnic and verbally berates her. Jim considers a possible move to Hong Kong as his company offers a promotion and substantial raise. He and Cindy decide to go through with the move.
Music: ""I'll Stand by You"" by the Pretenders (#16, 1994); ""Remember"" by Harry Nilsson
View page
Watch online
T
he gang takes off with plans to spend the weekend camping at Yosemite Park. A sudden monsoon forces the teens to seek refuge in a cramped one-bedroom cabin. Everyone quickly begins to get on each other's nerves. Steve and David go out for beer, but an elderly couple takes Steve's money and splits without buying him anything. The honeymooning couple in the next cabin supplies the kids with food and firewood, but gets into a huge argument. The gang tries to provide counsel, and learns that the husband had commented on waiting to have kids, but the wife is already pregnant. Dylan storms out following a fight with Brenda and has a drink. Dylan and Brandon go for a hike, but Brandon slips on the rocks. Dylan saves him from falling off the cliff, and they decide to keep the incident to themselves.
View page
Watch online
A
dog follows Brenda home from a jog. She tries desperately to find the animal a home so that she won't have to take it to a shelter. Brandon and Steve must take over Jim's little league team after he injures his back during infield practice. Brandon is disgusted with the whole experience, particularly the undue influence of the league president (father of the star pitcher) and the players' attitudes. He arranges a practice game with Nat's team of underprivileged kids, where one of his players taunts the hapless second baseman. Brandon stomps off when Steve won't let him remove the boy from the lineup. He stays with the team out of loyalty to his father, but also helps Nat's squad. The fortunes of Nat's team begin to turn around when Andrea brings in a female superstar.
View page
Watch online
B
randon meets senior Melissa Coolidge on the school lawn during lunch. He makes a date with her, and learns that she is the mother of an infant son, Joey. Brandon is forced into emergency babysitting duty while Melissa has an interview with Harvard. Jim and Cindy are unavailable, but Steve helps Brandon through the afternoon. Melissa's interview does not go well, and she becomes frustrated with her life. She fears that she may have to give up her son, but Cindy calms her with a heart-to-heart talk. Brenda and Kelly win skydiving lessons from a radio contest.
Music: ""Opposites Attract,"" sung by Kristin Datillo (Paula Abdul - #1, 1990); ""Baby Love"" by the Supremes (#1, 1964); ""Rock-a-Bye Baby,"" sung by Jason Priestley; ""La Cucaracha,"" sung by Ian Ziering; ""Joey"" by Concrete Blonde (#19, 1990); ""Wicked Game"" by Chris Isaak (#6, 1991)
View page
Watch online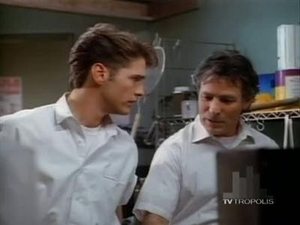 B
renda becomes a trainee for a teen crisis hotline, although Andrea questions her devotion. Brenda violates the rules by taking a call after hours. The caller is a date rape victim, who suffers the same fate on three consecutive nights. Brenda is desperate to learn the girl's identity and help her. Brandon believes that a masseuse has a romantic interest in him. He also dodges a freshman admirer, who similarly gives the cold shoulder to Scott.
Music: ""Get Up! (Before the Night Is Over)"" by Technotronic (#7, 1990); ""Since I Met You Baby"" by Ivory Joe Hunter (#12, 1956); ""Devil or Angel"" by the Clovers
View page
Watch online
T
he hit on Dylan fails when Brandon, David and Steve ""kidnap"" him for a rather sedate bachelor party. The girls throw a much livelier affair for Toni. Marchette shows up at the beach apartment and tries to talk Toni out of the marriage. He refuses to attend the wedding, so Bruno gives her away. (Only Bruno and Brandon are allowed at the ceremony, but everyone comes to the reception.) The next day, Marchette asks Dylan to come over to accept a gift for Toni. Bruno finds out that Dylan is to be ambushed and killed, but can't reach him because the phone is off the hook. He turns to Brandon for help. Toni is upset when their cat, Trouble, turns up missing during a driving rainstorm. Dylan agrees to stay home and look for her while Toni meets her father. Because of the rain, the hit men cannot tell that Toni is driving Dylan's car. She is shot to death, as Brandon and Dylan arrive seconds later. After the funeral, Marchette challenges Dylan to gain revenge by killing him. He refuses, and de
View page
Watch online
Beverly Hills, 90210 is an American drama series that originally aired from October 4, 1990 to May 17, 2000 on Fox and was produced by Spelling Television in the United States, and subsequently on numerous networks around the world. It is the first series in the Beverly Hills, 90210 franchise. The show followed the lives of a group of teenagers living in the upscale, star-studded community of Beverly Hills, California and attending the fictitious West Beverly Hills High School and, subsequently, the fictitious California University after graduation. The show was created by Darren Star and executive producers Charles Rosin followed in later seasons by Aaron Spelling, E. Duke Vincent, Steve Wasserman, and Jessica Klein. The "90210" in the title refers to one of the city's five ZIP codes. The original premise of the show was based on the adjustment and culture shock that twins Brandon and Brenda Walsh experienced when they and their parents, Jim and Cindy moved from Minneapolis, Minnesota to Beverly Hills. In addition to chronicling the friendships and romantic relationships of the characters, the show also addressed numerous topical issues such as date rape, gay rights, alcoholism, domestic violence, anti-Semitism, drug abuse, teenage suicide, teenage pregnancy, AIDS, bulimia and abortion. Beverly Hills, 90210 was named one of the Best School Shows of All Time by AOL TV.
Related articles