List of the 10 best rated episodes from the TV show Dynasty from the 210 listed on our webite. Order based on the average from the IMDB and TMDB ratings
F
allon's doctors believe her paralysis to be psychosomatic. To prevent her from marrying Adam, Alexis offers Kirby a job in Paris. When the ploy fails, Alexis tells the girl her mother has long been confined to an institution for the criminally insane. Kirby had believed her mother to be dead. Fallon, under the care of physical therapists and a doting family, remains unable to walk--until her child's life is in jeopardy. At a family dinner to celebrate Fallon's recovery, Claudia receives a message containing a family snapshot taken by Matthew. She determines to unravel the mystery behind her tormentors.
View page
Watch online
J
eff storms into Alexis' office and accuses her of attempting to poison him. Her claims of innocence fall on deaf ears as Jeff forces her to sign back his Colbyco stock. After an intruder attempts to enter Alexis' apartment, Mark takes a job as her bodyguard. Adam's doctor in Montana explains to Alexis that the drugs Adam used in his youth can distort judgment. Alexis informs the board members that the sudden merger cancellation was based on her assessment of Denver-Carrington's lack of creative growth. Farnsworth ""Dex"" Dexter, the sharp-minded son of an important board member, surprises Alexis with a passionate kiss and suggests they form a business partnership.
View page
Watch online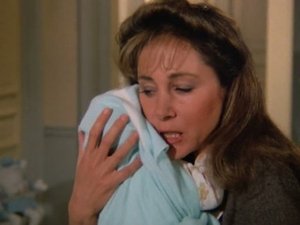 F
allon and Jeff's baby, Little-Blake Colby, is brought home. A nurse called Susan is hired to take care of him. Alexis accepts Cecil's proposal and they start making wedding plans. Claudia finally remembers exactly what happened the night she got injured. Rashid Ahmed wants to do more business with Blake.
View page
Watch online
A
lexis prepares to have the wedding reception in Blake's garden. Rashid Ahmed's brother Farouk comes to Denver-Carrington to offer Blake a deal, but Blake turns it down. To get back at him, Farouk tells Nick that Blake is responsible for his brother's death. Steven leaves the mansion. Blake considers buying a big ranch and goes there with to look around. Blake goes alone for a ride in the mountains at the ranch. Nick follows him and starts accusing him for the brother's death. There's a big brawl, but they both calm down, and Nick leaves Blake alone. Blake's horse is then attacked by a snake. Blake gets thrown off and disappears down the hill. Nick watches Blake lying there unconscious, but leaves him. Little Blake disappears. Cecil has a heart attack when he's in bed with Alexis.
View page
Watch online
A
manda insists Alexis acknowledge their relationship and begs her to reveal her father's identity. Alexis tells her it was simply an anonymous ski instructor in Gstaad. Steven and Alexis reconcile and he rejoins Colbyco, where Luke Fuller, an attractive young man, has just been hired as public relations director. Claudia enters Steven's office to find Luke straightening her husband's tie. Amanda goes public with a front page story announcing she is Alexis' illegitimate daughter. Jeff meets an attractive young widow, Nicole, whose late husband was Peter DeVilbis.
View page
Watch online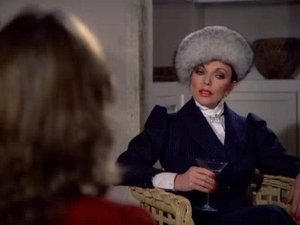 A
s Blake is departing for Singapore to identify his son, Alexis intercepts him at the airport to assure him she will not be stopped from merging their respective companies. Despite Alexis' efforts, however, Blake is assured of Congressman McVane's help in stalling official approval of the move. Jeff tells Alexis he was mistaken in signing over his stock and wants to retract the action; Adam lures Kirby to a hotel and attacks her. Jeff arrives to rescue Kirby and in a passionate moment, asks her to marry him. In Singapore, Steven tells his father he has broken from the family and will not return to Denver...until Blake tells him he is father to an infant son at the Carrington mansion.
View page
Watch online
T
o raise the needed money, Blake sells his assets and mortgages the mansion. In a heated confrontation with Alexis, Tracy quits. Tracy tells Alexis of her ongoing affair with Dex. Alexis is again questioned by the police, who want the details of her affair with Mark. Fallon suffers another painful headache. Sammy Jo informs Steven she intends to stay in Denver and take custody of Danny. An unknown, beautiful woman, Dominique Devereaux, sweeps into La Mirage demanding the finest accommodations. When she attempts to question Fallon about Alexis, Fallon grows suspicious.
View page
Watch online
C
laudia keeps accusing Krystle about her relationship with Matthew during his marriage. Steven is on his way home from Hollywood when he picks up a guy who wants a ride to Denver. When they get there, the guy tries to blackmail Steven. Steven beats him up, and is arrested for assault. Cecil has chest pains and seems to be getting heart problems. Blake accuses Alexis of shooting at Krystle's horse and threatens her.
View page
Watch online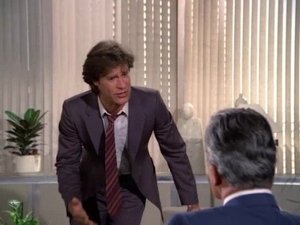 C
ecil leaves his estate and ColbyCo to Jeff and Alexis. He also reveals his ""Rhinewood-game"" in his will. Blake suspects Alexis of being a part of it. Adam finds Alexis and shows her the silver rattle he had when he was kidnapped. Alexis believes him.
View page
Watch online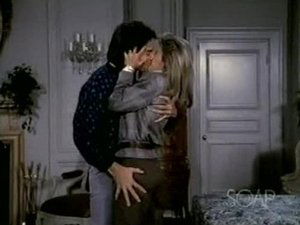 K
rystle regains consciousness and finds herself locked in the attic at Delta Rho Farms while Rita is impersonating her at the mansion. Dex is caught and tortured in Moldavia. A furious Blake learns Adam lied to him by canceling a business trip to marry Claudia. Blakecuts Adam out of his will. Claudia is upset to find Michael has been appointed chairman of La Mirage. The Colby family attends Blake's party to announce the formation of the Carrington-Colby pipeline. Blake, however, continues to question Jason's integrity. One-time lovers Dominique and Garrett Boydston, Jason's chief counsel, are reunited. From his bedroom window, Jeff spots Miles Colby arriving with Fallon.
View page
Watch online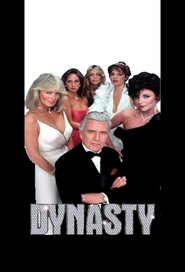 Dynasty is an American prime time television soap opera that aired on ABC from January 12, 1981 to May 11, 1989. The series, created by Richard and Esther Shapiro and produced by Aaron Spelling, revolved around the Carringtons, a fictional wealthy family, residing in Denver, Colorado. The series was ABC's competitor to CBS's prime time series, Dallas. John Forsythe starred as oil tycoon Blake Carrington, who runs Denver-Carrington, a highly successful oil business in Denver. Linda Evans played his beautiful young wife Krystle Jennings and Joan Collins played his evil former wife Alexis Carrington Colby. For the first four seasons, Pamela Sue Martin played his uncontrollable daughter Fallon, and for the first two seasons, Al Corley played his homosexual son Steven. Lloyd Bochner played Blake's business rival Cecil Colby and John James played Cecil's nephew Jeff Colby. Ratings for the show's first season were lower than imagined, but the fall 1981 arrival of Joan Collins as Blake's scheming ex-wife Alexis Morell Carrington, saw ratings enter the top twenty. By the fall of 1982, it was a top ten show, and by the spring of 1985, it was the #1 show in the United States and Great Britain. Other notable cast members included Heather Locklear, Michael Nader, Diahann Carroll, Emma Samms, Ted McGinley, Rock Hudson, Kate O'Mara and Stephanie Beacham among others.
Related articles