List of the 10 best rated episodes from the TV show Queer As Folk from the 83 listed on our webite. Order based on the average from the IMDB and TMDB ratings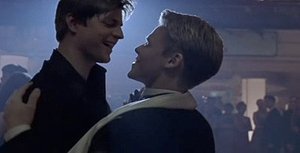 B
rian turns 30; Michael and David prepare for their move to Portland; Ted faces the truth about Blake; Justin and Daphne attend their prom where a big surprise awaits; On his way to the airport, Michael receives a call from Brian.
View page
Watch online
B
en Bruckner, a customer at Michael's comic book store, teaches a gay studies course at Pittsburgh's Carnegie Mellon University. Invited by Ben to give a lecture on homoeroticism in superhero comics, Michael doubts his own intellectual abilities and fails to appear. Later, Ben reassures Michael, who, speaking from his heart, charms the students. Attracted to each other, Ben and Michael kiss as a prelude to sex, but Ben stops to warn Michael that he is HIV positive.
Meanwhile, Ted and Emmett enlist well-endowed porn star Zack O'Tool to appear live on Ted's failing, pornographic Web site, but he cancels at the last minute. Desperate, Ted persuades Emmett to perform in Zack's place, and, surprisingly, Emmett's appearance generates big revenue for Ted. Lindsay expresses disgust for pornography, but she becomes sexually aroused by Melanie's photos, taken during college, in an old men's magazine. Justin moves out of Brian's condo, but Brian asks him to return. The two negotiate certain ground rules.
View page
Watch online
W
hile Ted lies in a drug-induced coma, Brian learns he's named the executor of his friend's living will; Justin decides to take chance on a situation where he could seduce (in terms jerk) a fellow classmate; Justin's mother suspects the truth about her son's sexuality after finding some drawings of naked men in his sketch book; Michael and Emmett try to remove incriminating evidence (porn, 33 dildos... don't ask) from Ted's apartment but discover Ted's longtime crush on Michael.
View page
Watch online
A
fter a night out at the club Babylon with Michael, Emmett and Ted; Brian picks up a cute guy named Justin for a night of fun, but afterwards coldly rebuffs Justin's attempts to see him again. Michael also gets lucky taking home a hunk only to be happily interrupted for a trip to the hospital after Brian learns that Lindsay and Melanie have had a baby boy, Gus.
View page
Watch online
B
rian gets involved briefly with Kip, a younger co-worker who's been with the company only a few months. Melanie flirts with one of the guests at a baby shower she and Lindsay are hosting for another lesbian couple. When Ted and Michael discover Emmett is throwing out his porn collection and toys, he tells them about the ""See the Light"" group he's joined. After another fight with Lindsay, Melanie ends up at a bar with Marianne, then back at her place. When Ted and Michael discover that Emmett's favorite porn star is in town, they offer him $1,000 to seduce Emmett and ""save"" him from the group they believe is brainwashing him. Brian refuses Kip's request that he recommend him for a promotion on the grounds that he doesn't have enough experience, then reminds him not to expect special favors just because they're both gay. Melanie confesses to Lindsay that she cheated on her and moves out. Emmett tells Michael and Ted that he resisted the temptation that was Zack O'Tool, and that he must
View page
Watch online
W
ill Brian and Justin finally live happily ever after? Has Ted found the right guy, or does Mr. Right lie closer to home? How will Lindsay and Melanie say goodbye to all their friends before starting a new life? What will Ben and Michael's decision be regarding Hunter? Find out in Queer as Folk's series finale, because it'll be surprising as the show has always been.
View page
Watch online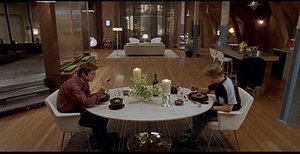 J
ustin's father attacks Brian outside Babylon; Michael gets a promotion at work; Justin movies in with Brian.
View page
Watch online
A
fter a month of rehab in the hospital Justin is given to his mother to take home. Brian visits Justin every night in the hospital but will not let the nurse tell Justin he was there. Lindsay, Melanie, Ted and Emmett go to Lindsay's sister's wedding and while giving the toast Lindsay ask Melanie to marry her. Justin goes in search of Brian and finds him at Woody's with Michael. Justin and Brian go back to his place where Brian talks about what happened to Justin on that night. Justin tells Brian it was not his fault and the two embrace. Justin then returns to home to a angry mother. The next day Daphne, Brian, and Justin are outside throwing a ball to help Justin get use of his hand when Justin's mom shows up and tells Justin she wants to talk to Brian alone. She then tells Brian to return her son back to him and to never see Justin again. Brian hands her the tennis ball and gets in his jeep and pulls away.
View page
Watch online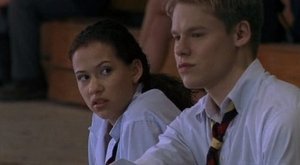 I
n the throes of a hot session Brian gets upsetting news; Daphne asks Justin to be her first time; Ted wants Blake, despite his crystal meth addiction.
View page
Watch online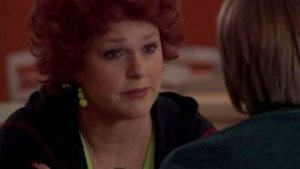 B
rian re-evaulates his priorities in the aftermath of the bombing. Michael contiunes on the long and painful road to recovery with Ben at his side and a vigil for the victims ends in chaos.
View page
Watch online
Queer As Folk is an innovative, provocative, and groundbreaking series that chronicles the friendships, careers, loves, trials, tribulations, and ambitions of a diverse group of gay men and lesbians living in Pittsburgh, PA. Blending strong drama with necessary charm and humor, it rivals any other show presented on television.
Related articles