List of the 10 best rated episodes from the TV show The Golden Girls from the 117 listed on our webite. Order based on the average from the IMDB and TMDB ratings
W
hen Rose must give a eulogy at her aunt's funeral, Rose must try to get over her biggest fear in the world, giving speeches. This also brings up Dorothy and Blanche's biggest fears, Dorothy's of flying and Blanche's of a recurring dream.
View page
Watch online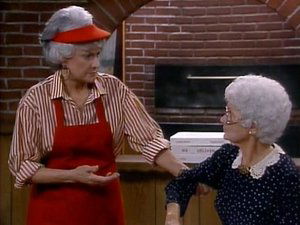 A
fter Sophia accidentally knocks a bottle of Rose's pills down the sink, it is discovered, she is addicted to them. She then must battle withdrawal when she can't get a hold of another bottle. Meanwhile, Dorothy and Sophia are hired to be in a pizza commercial.
View page
Watch online
S
ophia's brother, Angelo, a priest, is coming to Miami for a visit and he doesn't know Dorothy and Stan are divorced. So in order to spare his feelings, Sophia convinces Dorothy and Stan to pretend to be married. Meanwhile, Rose and Blanche prepare to star in a play, The Sound of Music.
View page
Watch online
D
orothy's old friend, Jean comes to Miami for a visit and Dorothy decides not to tell Blanche and Rose that Jean is a lesbian. Then, after spending time with Rose, Jean begins to fall for her. Meanwhile, a new VCR, prompts Sophia to rent ""dirty movies.""
View page
Watch online
D
orothy, Blanche and Rose each vie for the attention of an actor in the local community theatre, who on the sly begins romancing each of them.
View page
Watch online
T
he house is fumigated and the girls move into a Miami Beach hotel. Previously, Blanche had won three tickets to see the opening of Burt Reynolds new movie and passes to the party held afterwards where they could meet him. However, on the evening of the opening, the hotel is raided and, mistaken as prostitutes, Dorothy, Blanche and Rose are dragged off to jail.
View page
Watch online
D
orothy's old friend, Trudy comes for a visit and this revives their old rivalry between each other. However, the visit turns tragic when Trudy suddenly dies and Dorothy blames herself.
View page
Watch online
S
ophia's friend has come up with an idea that will change her life. She wants to commit suicide and she wants Sophia there to hold her hand. Meanwhile, Blanche, Rose and Dorothy become singing nursemaids to a sick baby that they are taking care of for the weekend.
View page
Watch online
T
he girls circulate a petition to save a 200 year old oak tree which is located on the property of the most hated woman in the neighborhood, Frieda Claxton, who wants the tree cut down.
View page
Watch online
S
ophia befriends an old man on the boardwalk whom she becomes quick friends with. However, his strange behavior signals that he has a medical condition, Alzheimer's disease. Meanwhile, Blanche accidentally gives away Rose's teddy bear at a garage sale.
View page
Watch online
The Golden Girls is an American sitcom, created by Susan Harris, that originally aired on NBC from September 14, 1985, to May 9, 1992. Starring Bea Arthur, Betty White, Rue McClanahan and Estelle Getty, the show centers on four older women sharing a home in Miami, Florida.
Related articles