List of the 10 best rated episodes from the TV show Mad About You from the 58 listed on our webite. Order based on the average from the IMDB and TMDB ratings
W
hat brought Paul and Jamie together? Was it fate or a big coincidence? Jamie's belief that it was fate annoys Paul to no end, especially because Jamie is spending more time with Lisa than with him.
View page
Watch online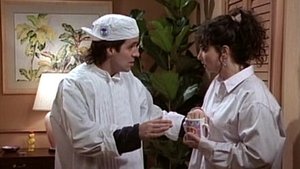 F
ran tells Jamie that she may be pregnant, and Paul finds out from Ira that Ira may have gotten someone pregnant, but neither realizes that it is Ira who might have gotten Fran pregnant.
View page
Watch online
A
bad day in the Big Apple leaves Jamie unwilling to go out to see a feel-good movie, but Paul talks her into an evening out, if only to meet Ira's new girlfriend.
View page
Watch online
J
amie suspects a surprise party waiting for her at home. However, that's not what has been arranged for her birthday by Paul, who gets separated from her on the subway en route to the surprise.
View page
Watch online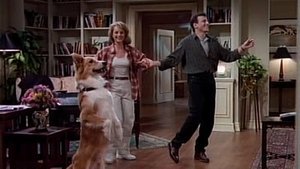 L
isa takes Murray out for a walk and returns with a dog that obviously isn't him. Meanwhile, Paul and Jamie contact the cops and everyone else joins in the hunt for the real Murray. When they finally find him they also encounter people that own the dog Lisa brought home that turn out to be totally different than them.
View page
Watch online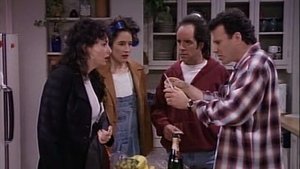 T
he night before Jamie returns to school she worries that Paul might not support her fully. In the morning before Jamie leaves, Paul realizes that he has forgotten to mail her registration.
View page
Watch online
J
amie works around Paul's opposition to having a TV in their bedroom, and hotwires an additional cable outlet with Fran's help. The resulting complications ultimately lead to a city-wide blackout.
View page
Watch online
T
he story of how Paul and Jamie met is told, beginning with a chance encounter on a Sunday evening by the newstand, followed by Paul's hard work to locate Jamie. Jamie breaks up with her boyfriend and is feeling strange. Paul appears in her office bringing her clothes and as time passes, they go on a dinner date...
View page
Watch online
T
he death of a Paul Buchman affects Jamie and Paul quite suddenly, leaving them without cash or credit. Meanwhile, Paul is morbidly curious about his namesake.
View page
Watch online
J
amie's perfect Thanksgiving feast involves a buffet for ten and five turkeys, thanks to Murray and the extremely friendly neighborhood grocer Kim.
View page
Watch online
Mad About You is an American sitcom that aired on NBC from September 23, 1992 to May 24, 1999. The show stars Paul Reiser and Helen Hunt as a newly married couple in New York City. Reiser played Paul Buchman, a documentary film maker. Hunt played Jamie Stemple Buchman, a public relations specialist. Near the end of the show's run, the couple had a baby daughter, whom they named Mabel. The series focuses mainly on the newlyweds while they dealt with everything from humorous daily minutiae to major struggles. The show's willingness to find comedy in realistic situations and observational dialogue garnered it comparisons to Seinfeld, another NBC comedy about thirty-somethings in New York City. Helen Hunt and Paul Reiser were paid $1 million per episode for the last season. However, ratings fell sharply that year as the series was shuffled away from its Tuesday slot to prop up a fledgling Monday night line-up of comedies on NBC. The final episode of the series was "The Final Frontier". The show's theme song, "Final Frontier", was composed by Reiser and Don Was. The theme was originally performed by Andrew Gold, but a version performed by Anita Baker made its debut midway through the 1997 season. Baker's version was used for the rest of the show's run and appears on the show's soundtrack album. Gold's version is available on the collection Thank You for Being a Friend: The Best of Andrew Gold.
Related articles