List of the 10 best movies starring Tony Leung Chiu-Wai, order based on the average from the IMDB, TMDB and Rotten Tomatoes ratings
Role in movie: 另一个阿飞(Chow Mo-Wan)
T
he movie is set in Hong Kong and the Philippines in 1960. Yuddy, or 'York' in English (Leslie Cheung), is a playboy in Hong Kong and is well-known for stealing girls' hearts and breaking them. His first victim is Li Zhen (Maggie Cheung) who suffered emotional and mental depression as a result of Yuddy's wayward attitude. Li Zhen eventually seeks much-needed solace from a sympathetic policeman named Tide (Andy Lau). Their near-romance is often hinted at but never materialises.
View page
Watch online
Role in movie: Himself / Lai Yiu-fai
A
making of documentary for Happy Together. Includes interviews, on-set footage, cut scenes and footage of crew members revisiting the locations where Happy Together was filmed.
View page
Watch online
Role in movie: Lai Yiu-fai
L
ai (Tony Leung Chiu Wai) and his boyfriend, Ho (Leslie Cheung), arrive in Argentina from Hong Kong, seeking a better life. Their highly contentious relationship turns abusive and results in numerous break-ups and reconciliations. When Lai befriends another man, Chang (Chang Chen), he sees the futility of continuing with the promiscuous Ho. Chang, however, is on his own personal journey and, ultimately, both Lai and Ho find themselves far from home and desperately lonely.
View page
Trailer
Watch online
J
ohn Woo's Hard Boiled tells the story of jaded detective "Tequila" Yuen (played with controlled fury by Chow Yun-fat). Woo's dizzying odyssey through the world of Hong Kong Triads, undercover agents, and frenzied police raids culminates unforgettably in the breathless hospital sequence.
View page
Trailer
Watch online
Role in movie: Chan Wing Yan
C
han Wing Yan, a young police officer, has been sent undercover as a mole in the local mafia. Lau Kin Ming, a young mafia member, infiltrates the police force. Years later, their older counterparts, Chen Wing Yan and Inspector Lau Kin Ming, respectively, race against time to expose the mole within their midst.
View page
Trailer
Watch online
Role in movie: Chow Mo-Wan
A
melancholy story about the love between a woman and a man who live in the same building and one day find out that their husband and wife had an affair with each other. More and more the two meet during their daily lives as they determine that they both don't want to be lonely in their marriage.
View page
Watch online
Role in movie: Policeman 663
E
very day, Cop 223 (Takeshi Kaneshiro) buys a can of pineapple with an expiration date of May 1, symbolizing the day he'll get over his lost love. He's also got his eye on a mysterious woman in a blond wig (Brigitte Lin), oblivious of the fact she's a drug dealer. Cop 663 (Tony Leung Chiu Wai) is distraught with heartbreak over a breakup. But when his ex drops a spare set of his keys at a local cafe, a waitress (Faye Wong) lets herself into his apartment and spruces up his life.
View page
Watch online
W
hen three close friends escape from Hong Kong to war-time Saigon to start a criminal's life, they all go through a harrowing experience which totally shatters their lives and their friendship forever.
View page
Watch online
T
he triangular relationship between Lap (Joey Wang). Rick (Kenny Bee) and Cheung (Tony Leung) is the backbone of this film. Lap's father was once a triad; he retired and opened a bar near seashore. Rick worked there and was a couple with Lap. Force by an old partner, Lap's father assisted in trafficking of his father, Lap became the mistress of Godfather Shen. Cheung was her driver and loved her deeply. Six years later, Rick became a professional assassinator and returned to Hong Kong for a job. he met Lap, and Lap decided to leave Godfather Shen. Of course Godfather Shen wouldn't let his woman get away from him. Cheung helped them to exile. Lap, Rick and Cheung united to confront Godfather shen and his follwers. A bloody gun battle begin. Could every one survive at the end?
View page
Watch online
S
oon after Japan relinquishes control of Taiwan in 1945, the Lin brothers face hardships from the changing culture. Bar owner Wen-heung (Chen Sown-yung), the eldest brother, falls foul of local gangsters, Wen-sun disappears, and Wen-leung, scarred by his experiences in the war, ends up in an insane asylum. Deaf-mute photographer Wen-ching (Tony Leung Chiu Wai), the youngest brother, decides to make a stand and fight the Kuomintang government from China that is assuming power.
View page
Watch online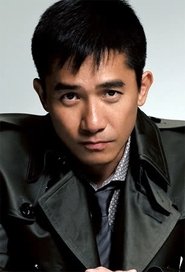 Tony Leung Chiu-Wai is a Hong Kong film actor and former TVB actor. A major film star since the 1990s, Leung has won the Hong Kong Film Awards five times and the Golden Horse Best Actor awards thrice.
View page with full filmography
Related articles