List of the 10 best movies starring Elijah Wood, order based on the average from the IMDB, TMDB and Rotten Tomatoes ratings
Role in movie: David Waters
Role in movie: Jonathan Safran Foer
A
film based on the semi-autobiographical novel of the same name by American writer Jonathan Safran Foer, in which a young Jewish American man endeavors—with the help of eccentric, distant relatives—to find the woman who saved his grandfather during World War II, in a Ukrainian village which was ultimately razed by the Nazis.
View page
Trailer
Watch online
Role in movie: Mikey Carver
I
n the weekend after thanksgiving 1973 the Hoods are skidding out of control. Benjamin Hood reels from drink to drink, trying not to think about his trouble at the office. His wife, Elena, is reading self help books and losing patience with her husband's lies. Their son, Paul, home for the holidays, escapes to the city to pursue an alluring rich girl from his prep school. Young, budding nymphomaniac, Wendy Hood roams the neighborhood, innocently exploring liquor cabinets and lingerie drawers of her friends' parents, looking for something new. Then an ice storm hits, the worst in a century.
View page
Trailer
Watch online
B
efore Bad Brains, the Sex Pistols or even the Ramones, there was Death. Formed in the early '70s by three teenage brothers from Detroit, Death is credited as being the first black punk band, and the Hackney brothers, David, Bobby, and Dannis, are now considered pioneers in their field. But it wasn't until recently — when a dusty 1974 demo tape made its way out of Bobby's attic nearly 30 years after Death's heyday — that anyone outside a small group of punk enthusiasts had even heard of them.
View page
Trailer
Watch online
S
in City is a neo-noir crime thriller based on Frank Miller's graphic novel series of the same name.The film is primarily based on three of Miller's works: The Hard Goodbye, about a man who embarks on a brutal rampage in search of his one-time sweetheart's killer; The Big Fat Kill, which focuses on a street war between a group of prostitutes and a group of mercenaries; and That Yellow Bastard, which follows an aging police officer who protects a young woman from a grotesquely disfigured serial killer.
View page
Trailer
Watch online
Role in movie: Sone (voice: English version)
T
he Wind Rises is the 11th animated theatrical film directed by Hayao Miyazaki at Studio Ghibli. Based on Miyazaki's own manga and the 1937 short novel of the same name by Tatsuo Hori, this is the story of Jirō Horikoshi, the aircraft engineer most remembered for his design work on the Mitsubishi A6M Reisen "Zero", Japan's famous World War II fighter aircraft. During the WWII years, the Miyazaki family business manufactured aircraft parts, including the windshields and rudders used on the Zero.
View page
Trailer
Watch online
A
man, Joel Barish, heartbroken that his girlfriend Clementine underwent a procedure to erase him from her memory, decides to do the same. However, as he watches his memories of her fade away, he realizes that he still loves her, and may be too late to correct his mistake.
View page
Trailer
Watch online
Role in movie: Frodo Baggins
Y
oung hobbit Frodo Baggins, after inheriting a mysterious ring from his uncle Bilbo, must leave his home in order to keep it from falling into the hands of its evil creator. Along the way, a fellowship is formed to protect the ringbearer and make sure that the ring arrives at its final destination: Mt. Doom, the only place where it can be destroyed.
View page
Trailer
Watch online
Role in movie: Frodo Baggins
F
rodo and Sam are trekking to Mordor to destroy the One Ring of Power while Gimli, Legolas and Aragorn search for the orc-captured Merry and Pippin. All along, nefarious wizard Saruman awaits the Fellowship members at the Orthanc Tower in Isengard.
View page
Trailer
Watch online
Role in movie: Frodo Baggins
A
ragorn is revealed as the heir to the ancient kings as he, Gandalf and the other members of the broken fellowship struggle to save Gondor from Sauron's forces. Meanwhile, Frodo and Sam bring the ring closer to the heart of Mordor, the dark lord's realm.
View page
Trailer
Watch online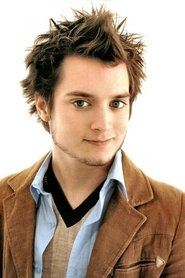 Elijah Jordan Wood ( born January 28, 1981) is an American actor. He made his film debut with a minor part in Back to the Future Part II (1989), then landed a succession of larger roles that made him a critically acclaimed child actor by age 9. He is best known for his high-profile role as Frodo Baggins in Peter Jackson's critically acclaimed The Lord of the Rings trilogy. Since then, he has resisted typecasting by choosing varied roles in critically acclaimed films such as Bobby, Eternal Sunshine of the Spotless Mind, Sin City, Green Street and Everything Is Illuminated. He starred in the film Day Zero (2007) and provided the voice of the main character, Mumble, in the award-winning animated film Happy Feet. He played an American tourist turned vampire in Paris, je t'aime. In 2005, he started his own record label, Simian Records. He was cast in the lead role of an Iggy Pop biopic to be called The Passenger, but after years of development, the project now appears to be shelved. Description above from the Wikipedia article Elijah Wood, licensed under CC-BY-SA, full list of contributors on Wikipedia.
View page with full filmography
Related articles