List of the 10 best movies starring Paul Rudd, order based on the average from the IMDB, TMDB and Rotten Tomatoes ratings
W
hile attending a party at James Franco's house, Seth Rogen, Jay Baruchel and many other celebrities are faced with the apocalypse.
View page
Trailer
Watch online
C
lueless follows the misadventures of meddlesome Beverly Hills high schooler Cher, who gets more than she bargained for when she gives a fashion-challenged student a makeover.
View page
Trailer
Watch online
Role in movie: Brian Fantana
I
t's the 1970's and San Diego super-sexist anchorman Ron Burgundy is the top dog in local TV, but that's all about to change when ambitious reporter Veronica Corningstone arrives as a new employee at his station.
View page
Trailer
Watch online
Role in movie: Peter Klaven
P
eter Klaven is a successful real estate agent who, upon getting engaged to the woman of his dreams, Zooey, discovers, to his dismay and chagrin, that he has no male friend close enough to serve as his Best Man. Peter immediately sets out to rectify the situation, embarking on a series of bizarre and awkward "man-dates," before meeting Sydney Fife.
View page
Trailer
Watch online
W
hen Sarah Marshall dumps aspiring musician Peter Bretter for rock star Aldous Snow, Peter's world comes crashing down. His best friend suggests that Peter should get away from everything and to fly off to Hawaii to escape all his problems. After arriving in Hawaii and meeting the beautiful Rachel Jansen, Peter is shocked to see not only Aldous Snow in Hawaii, but also Sarah Marshall.
View page
Watch online
A
ndy Stitzer has a pleasant life with a nice apartment and a job stamping invoices at an electronics store. But at age 40, there's one thing Andy hasn't done, and it's really bothering his sex-obsessed male co-workers: Andy is still a virgin. Determined to help Andy get laid, the guys make it their mission to de-virginize him. But it all seems hopeless until Andy meets small business owner Trish, a single mom.
View page
Trailer
Watch online
Role in movie: Wally Worthington
H
omer is an orphan who was never adopted, becoming the favorite of orphanage director Dr. Larch. Dr. Larch imparts his full medical knowledge on Homer, who becomes a skilled, albeit unlicensed, physician. But Homer yearns for a self-chosen life outside the orphanage. What will Homer learn about life and love in the cider house? What of the destiny that Dr. Larch has planned for him?
View page
Trailer
Watch online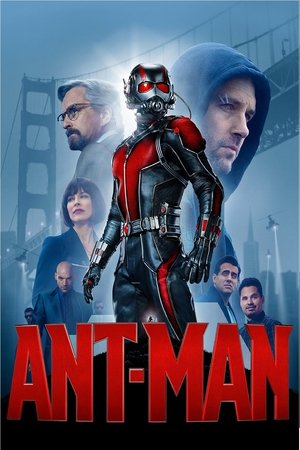 Role in movie: Scott Lang / Ant-Man
A
rmed with the astonishing ability to shrink in scale but increase in strength, con-man Scott Lang must embrace his inner-hero and help his mentor, Dr. Hank Pym, protect the secret behind his spectacular Ant-Man suit from a new generation of towering threats. Against seemingly insurmountable obstacles, Pym and Lang must plan and pull off a heist that will save the world.
View page
Trailer
Watch online
Role in movie: Mr. Prince
B
ased on the best-seller book 'The little prince', the movie tells the story of a little girl that lives with resignation in a world where efficiency and work are the only dogmas. Everything will change when accidentally she discovers her neighbor that will tell her about the story of the Little Prince that he once met.
View page
Watch online
Role in movie: Scott Lang / Ant-Man
F
ollowing the events of Age of Ultron, the collective governments of the world pass an act designed to regulate all superhuman activity. This polarizes opinion amongst the Avengers, causing two factions to side with Iron Man or Captain America, which causes an epic battle between former allies.
View page
Trailer
Watch online
From Wikipedia, the free encyclopedia Paul Stephen Rudd (born April 6, 1969) is an American actor and screenwriter. He primarily appears in comedies, and is most well-known for his roles in the films Clueless, Wet Hot American Summer, Anchorman, Halloween: The Curse of Michael Myers, The 40-Year-Old Virgin, Knocked Up, Dinner For Schmucks, The Object of My Affection, Role Models, I Love You, Man and How Do You Know. On television, he is also well known for his role on the NBC sitcom Friends, playing Mike Hannigan, Phoebe Buffay's boyfriend and later husband. Description above from the Wikipedia article Paul Rudd, licensed under CC-BY-SA, full list of contributors on Wikipedia.
View page with full filmography
Related articles