List of the 10 best films tagged with psychopath, order based on the average from the IMDB, TMDB and Rotten Tomatoes ratings
A
troupe of struggling stage actors is rehearsing for a small-town production of a play. Everything seems to be as it should until one of the cast members turns up dead. In a panic, the others try to get out, only to find they are now locked in the theater with the killer! Which one of them committed the murder, and who will get out alive?
View page
Trailer
Watch online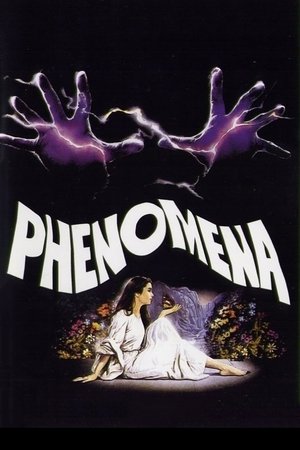 A
young girl, with an amazing ability to communicate with insects, is transferred to an exclusive Swiss boarding school, where her unusual capability might help solve a string of murders.
View page
Trailer
Watch online
A
seemingly average man, after murdering his entire family, takes on a new identity and remarries a widow with a teenage daughter in another town and prepares to do it again.
View page
Trailer
Watch online
A
reporter and a promiscuous young woman try to solve a series of child killings in a remote southern Italian town that's rife with superstition and distrust of outsiders.
View page
Watch online
G
ary is a former gangster who has made a modest amount of money from his criminal career. Happy to put his life of crime behind him, he has retired with his wife Deedee to the sunny bliss of rural Spain, where he lives an idyllic life with his family and a few close friends. But Gary's contentment is ruptured by an unwelcome visitor from his past. Don.
View page
Trailer
Watch online
W
innie Leung becomes more disturbed and depressed after her boyfriend Seth Lau breaks up with her and she turns schizophrenic - imagining events which never occurred, and often living in her own world- until one day she meets a guy named Ray, bearing a close resemblance to Seth. Seeing this, her best friend Yvonne encourages her to go out with Hou so she can forget her misery and start over. As time passes, Winnie realises that the relationship with Ray is so alike her previous relationship with Seth, and when things seem to be running smoothly, the relationship begins to sours, just like with Seth. She begins to doubt his feelings and the lines between reality and fantasy start blurring again for her, leading her to question: did this all exist in the first place?
View page
Watch online
F
BI Agent Will Graham, who retired after catching Hannibal Lecktor, returns to duty to engage in a risky cat-and-mouse game with Lecktor to capture a new killer. This film is based on the novel "Red Dragon" and predates all the later films with Anthony Hopkins as Hannibal Lecter (which also spells Lecter's name correctly).
View page
Trailer
Watch online
S
am Bowden, witnesses a rape committed by Max Cady and testifies against him. When released after 8 years in prison, Cady stalks Bowden and his family but is always clever enough not to violate the law. Bowden enlists the aid of a local police chief, a private detective and then hires thugs to harass Cady all to no avail. The film climaxes pitting Bowden and his family against Cady.
View page
Trailer
Watch online
A
teenage prostitute is murdered; her body cut up and flushed down the toilet, and her severed head thrown into Victoria Harbor. Director Philip Yung chooses to focus not on the crime or the investigation, but on the dead girl and her family, the cop and his family, and the killer who is without a family. The result is a genre-bender that progresses as it digresses, an atmospheric mosaic of human lives and actions that invariably get complicated, out of order and beyond reason, and with the characters firmly grounded in gritty and unforgiving reality.
View page
Watch online
K
laus Kinski has perhaps the most ferocious reputation of all screen actors: his volatility was documented to electrifying effect in Werner Herzog's 1999 portrait My Best Fiend. This documentary provides further fascinating insight into the talent and the tantrums of the great man. Beset by hecklers, Kinski tries to deliver an epic monologue about the life of Christ (with whom he perhaps identifies a little too closely). The performance becomes a stand-off, as Kinski fights for control of the crowd and alters the words to bait his tormentors. Indispensable for Kinski fans, and a riveting introduction for newcomers, this is a unique document, which Variety called 'a time capsule of societal ideals and personal demons.'
View page
Watch online
Related articles