List of the 10 best movies starring Abhishek Bachchan, order based on the average from the IMDB, TMDB and Rotten Tomatoes ratings
Role in movie: Roy Kapoor
R
oy (Abhishek Bachchan) is a professional conman, who has raised his work to the level of an art. The only true thing he has is his love for Simmi (Priyanka Chopra) someone who is so rooted, honest and sincere, that he can't bring himself to tell her the reality of who he is. But when his past catches up with him, she cannot forgive him for the deceit their relationship is built on. He loses her forever. That's when Aditya Srivastav (Riteish Deshmukh) enters the picture. He is the counterpoint to everything that Roy is as frantic as Roy is calm, as dumb as Roy is smart, as messy and untidy as Roy is smooth. They have only one thing in common.Aditya is a conman too. At least he thinks of himself as one. In Roy's book, he's an embarrassment. But one that won't go away!
View page
Watch online
K
unal and Sameer, two straight guys who pretend to be a gay couple to secure an posh Miami apartment, but both of them fall for their gorgeous room-mate Neha, hilarity ensures as they strive to convince one and all they are gay! While secretly trying to win Neha's heart.
View page
Watch online
Role in movie: A.C.P. Jai Dixit
T
o avenge his father's death, a circus entertainer trained in magic and acrobatics turns thief to take down a corrupt bank in Chicago. Two cops from Mumbai are assigned to the case.
View page
Trailer
Watch online
H
um Tum (Hindi: हम तुम, translation: You and Me, Urdu: ہم تم) is a Bollywood movie, released in India on May 28, 2004, directed by Kunal Kohli and produced by Aditya Chopra and Yash Chopra. The movie stars Saif Ali Khan and Rani Mukerji in the lead roles.
View page
Trailer
Watch online
Role in movie: Lallan Singh
M
ichael (Ajay Devgan) , Arjun (Vivek Oberoi) and Lallan (Abhishek Bachchan) are three young men in Kolkata , with different ideals and objectives . Michael is an idealistic youth leader who dreams of a better India being created by the youth power . Arjun is a self-centered , opportunistic , easygoing fellow whose objective is to immigrate to a developed country and make big money . Lallan is a goon who works for Prosenjit Chatterjee (Om Puri) , an immoral politician . The lives of these three different people become intertwined following a murder attempt and an accident in broad daylight on the Hooghly bridge
View page
Watch online
O
m Prakash Makhija is a Junior Artiste in Bollywood, who is infatuated with actress Shantipriya, and hopes to marry her someday. His hopes come to reality when he rescues her from a fire and they go on a date. Shortly thereafter he finds out that she is married to a film producer, Mukesh Mehra, and is expecting his child. He then watches in horror as Mukesh, after luring her in an abandoned studio, sets it afire. Om attempts to rescue her in vain, and he eventually is killed. 30 years later, Om is reborn as the only son of yesteryear Bollywood actor, Rajesh Kapoor, and is himself an actor. His memories start to return when he meets with his widowed mother, Bela, from his previous birth. He also meets with Mukesh and together they decide to make a movie 'Om Shanti Om'. Om then hires a look-alike of Shantipriya, and hopes to force a confession out of Mukesh - but things go awry and Om finds his life endangered once again.
View page
Watch online
A
road trip, undertaken by Rishi Kapoor and Abhishek Bachchan, is later joined by their mother.
View page
Watch online
Role in movie: Gurukanth Desai
G
uru is a 2007 Hindi film directed by Mani Ratnam. It stars Abhishek Bachchan, Aishwarya Rai, R. Madhavan, Vidya Balan and Mithun Chakraborty in the leading roles. The movie also has Mallika Sherawat in a guest appearance. The movie was also dubbed in Tamil as Guru and in Telugu as Gurukanth. The film was released on January 12, 2007.
View page
Watch online
T
he Indian version of The Godfather, with the focus on SARKAR, an Indian politician.
View page
Watch online
A
hilarious underworld gangster known as Munna Bhai falls comically in love with a radio host by the name of Jahnvi, who runs an elders' home, which is taken over by an unscrupulous builder, who gets the residents kicked out ironically with the help of Munna's sidekick, Circuit, while Munna is busy romancing Jahnvi elsewhere.
View page
Trailer
Watch online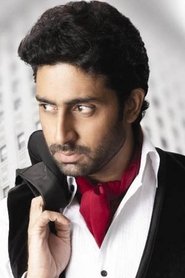 Abhishek Bachchan (born 5 February 1976 in Mumbai, Maharashtra) is an Indian actor and producer. He is the son of Indian actors Amitabh Bachchan and Jaya Bachchan and is married to actress and former Miss World Aishwarya Rai. Bachchan debuted with J.P. Dutta's Refugee (2000), but it was not until 2004 that he achieved success when he appeared in the commercially successful Dhoom and the critically acclaimed Yuva. His work in Yuva received several awards, including his first Filmfare Award in the Best Supporting Actor category, an award he would win for the two next years as well. In 2010, he won his first National Film Award (as a producer) for Paa which won the award for Best Feature Film in Hindi. He has starred in films such as Bunty aur Babli, Guru, and Dostana and has thereafter established himself as one of the leading actors of Bollywood. Description above from the Wikipedia article Abhishek Bachchan, licensed under CC-BY-SA, full list of contributors on Wikipedia.
View page with full filmography
Related articles