List of the 10 best movies starring Dustin Hoffman, order based on the average from the IMDB, TMDB and Rotten Tomatoes ratings
Role in movie: Shifu (voice)
I
t's the story about a lazy, irreverent slacker panda, named Po, who is the biggest fan of Kung Fu around...which doesn't exactly come in handy while working every day in his family's noodle shop. Unexpectedly chosen to fulfill an ancient prophecy, Po's dreams become reality when he joins the world of Kung Fu and studies alongside his idols, the legendary Furious Five -- Tigress, Crane, Mantis, Viper and Monkey -- under the leadership of their guru, Master Shifu. But before they know it, the vengeful and treacherous snow leopard Tai Lung is headed their way, and it's up to Po to defend everyone from the oncoming threat. Can he turn his dreams of becoming a Kung Fu master into reality? Po puts his heart - and his girth - into the task, and the unlikely hero ultimately finds that his greatest weaknesses turn out to be his greatest strengths.
View page
Watch online
Role in movie: Ted Kramer
T
ed Kramer is a career man for whom his work comes before his family. His wife Joanna cannot take this anymore, so she decides to leave him. Ted is now faced with the tasks of housekeeping and taking care of himself and their young son Billy. When he has learned to adjust his life to these new responsibilities, Joanna resurfaces and wants Billy back. Ted however refuses to give him up, so they go to court to fight for the custody of their son.
View page
Trailer
Watch online
Role in movie: David Sumner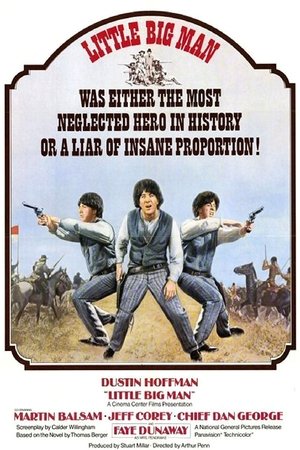 Role in movie: Jack Crabb
J
ack Crabb, looking back from extreme old age, tells of his life being raised by Indians and fighting with General Custer.
View page
Trailer
Watch online
Role in movie: Louis Dega
A
man befriends a fellow criminal as the two of them begin serving their sentence on a dreadful prison island, which inspires the man to plot his escape.
View page
Trailer
Watch online
Role in movie: 'Ratso' Rizzo
Role in movie: Peter (Archive Footage)
G
eorge Abitbol, "the Most Classy Man on Earth", dies sputtering his famous last words: "Crappy world!" What the heck did he mean? Reporters Steven, Peter and Dave investigate. La Classe Américaine is a montage of scenes taken from the Warner Bros. catalog and dubbed to fit the narration of what is arguably the greatest story ever told.
View page
Trailer
Watch online
Role in movie: Ben Braddock
R
ecent college graduate Benjamin Braddock is seduced by the wife of his father's business partner, Mrs. Robinson. Benjamin soon finds himself falling in love with her daughter, Elaine, as the affair with Mrs. Robinson mother comes back to haunt him.
View page
Trailer
Watch online
Role in movie: Raymond Babbitt
S
elfish yuppie Charlie Babbitt's father left a fortune to his savant brother Raymond and a pittance to Charlie; they travel cross-country.
View page
Watch online
Role in movie: Carl Bernstein
I
n the run-up to the 1972 elections, Washington Post reporter Bob Woodward covers what seems to be a minor break-in at the Democratic Party National headquarters. He is surprised to find top lawyers already on the defense case, and the discovery of names and addresses of Republican fund organizers on the accused further arouses his suspicions. The editor of the Post is prepared to run with the story and assigns Woodward and Carl Bernstein to it. They find the trail leading higher and higher in the Republican Party, and eventually into the White House itself.
View page
Trailer
Watch online
Dustin Lee Hoffman (born August 8, 1937) is an American actor with a career in film, television, and theatre since 1960. He has been known for his versatile portrayals of antiheroes and vulnerable types of characters. He first drew critical praise for the 1966 Off-Broadway play Eh? for which he won a Theatre World Award and a Drama Desk Award. This was soon followed by his breakthrough movie role as Benjamin Braddock in The Graduate (1967). Since then Hoffman's career has largely been focused in cinema with only sporadic returns to television and the stage. Some of his most noted films are Papillon, Marathon Man, Midnight Cowboy, Little Big Man, Lenny, All the President's Men, Kramer vs. Kramer, Tootsie, Rain Man, and Wag the Dog. Hoffman has won two Academy Awards, five Golden Globes, three BAFTAs, three Drama Desk Awards, a Genie Award, and an Emmy Award. Dustin Hoffman received the AFI Life Achievement Award in 1999. Description above from the Wikipedia article Dustin Hoffman, licensed under CC-BY-SA, full list of contributors on Wikipedia.
View page with full filmography
Related articles