List of the 10 best movies starring Karl Malden, order based on the average from the IMDB, TMDB and Rotten Tomatoes ratings
Role in movie: Harvey Shoemaker
A
fter killing a prison guard, convict Robert Stroud faces life imprisonment in solitary confinement. Driven nearly mad by loneliness and despair, Stroud's life gains new meaning when he happens upon a helpless baby sparrow in the exercise yard and nurses it back to health. Despite having only a third grade education, Stroud goes on to become a renowned ornithologist and achieves a greater sense of freedom and purpose behind bars than most people find in the outside world.
View page
Trailer
Watch online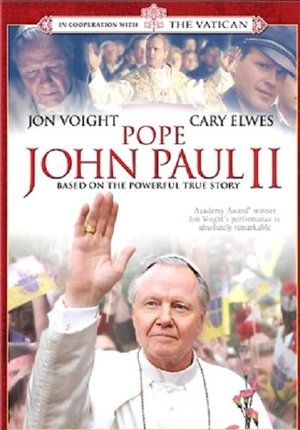 F
ollowing the death of his mother, Karol Wojtyla is brought up by his father in the Polish city of Krakow during the first half of the 20th century. When his homeland is invaded by the Nazis in 1939, he secretly opposes the systematic persecution of their Polish culture. With the death of his father, Karol decides to follow a priestly vocation. When Poland falls into the grip of Soviet totalitarianism, the newly ordained Karol is constantly surrounded by young people whom he teaches to safeguard and defend human dignity. He could be considered a serious threat to the regime, but the Communist authorities merely see him as an innocuous intellectual and he becomes the youngest bishop in the history of Poland. When he is appointed Cardinal, Karol is more intransigent in the spiritual guidance of his homeland, becoming a real and proper thorn in the side of the Communist government. On the death of Pope John Paul I in 1978, Karol leaves his beloved Poland to become Pope John Paul II.
View page
Trailer
Watch online
G
regory Peck stars as an aging notorious gunslinger, Johnny Ringo. Sick of killing he tries to avoid trouble, but when a cocksure young man named Eddie draws on him, Ringo has no choice but to kill him. Now Eddie's three brothers are after him. Ringo decides to return East to see his estranged wife and young son before the brothers catch up with him.
View page
Trailer
Watch online
Role in movie: Sgt. William Cullen
S
mall-time crook Nick Bianco gets caught in a jewel heist and despite urgings from well-meaning district attorney D'Angelo, refuses to rat on his partners and goes to jail, assured that his wife and children will be taken care of. Learning that his depressed wife has killed herself, Nick informs on his ex-pals and is paroled. Nick remarries, gets a job and begins leading a happy life when he learns one of the men he informed on, psychopathic killer Tommy Udo, has been released from custody and is out for revenge against Nick and his family.
View page
Trailer
Watch online
A
n up-and-coming poker player tries to prove himself in a high-stakes match against a long-time master of the game.
View page
Trailer
Watch online
Role in movie: Reverend Paul Ford
A
young girl comes to an embittered town and confronts it's attitude with her determination to see the best in life
View page
Trailer
Watch online
Role in movie: Archie Lee Meighan
B
ased on a play by Tennessee Williams, "Baby Doll" centers on Archie Lee Meighan (Karl Malden), a failing cotton gin owner who is married to Baby Doll (Carroll Baker), a 19-year old childlike beauty whose father arranged the marriage for financial reasons. As Archie awaits the arrival of Baby Doll's 20th birthday, the day that they are supposed to consummate their marriage, he faces interference from business rival Silva Vacarro (Eli Wallach), who plots to seduce Baby Doll away from Meighan.
View page
Trailer
Watch online
Role in movie: Gen. Omar N. Bradley
"
Patton" tells the tale of General George S. Patton, famous tank commander of World War II. The film begins with patton's career in North Africa and progresses through the invasion of Germany and the fall of the Third Reich. Side plots also speak of Patton's numerous faults such his temper and habit towards insubordination.
View page
Trailer
Role in movie: Harold Mitchell
A
Streetcar Named Desire is the film adaptation from the play by Tennessee Williams and directed by Elia Kazan. The film tells the drama story of the conflict between run down southern states and the exemplary industrial states in the north. Disturbed Blanche DuBois moves in with her sister in New Orleans and is tormented by her brutish brother-in-law while her reality crumbles around her.
View page
Trailer
Watch online
Role in movie: Father Barry
T
erry Malloy dreams about being a prize fighter, while tending his pigeons and running errands at the docks for Johnny Friendly, the corrupt boss of the dockers union. Terry witnesses a murder by two of Johnny's thugs, and later meets the dead man's sister and feels responsible for his death. She introduces him to Father Barry, who tries to force him to provide information for the courts that will smash the dock racketeers.
View page
Trailer
Watch online
From Wikipedia, the free encyclopedia Karl Malden (born Mladen George Sekulovich ; March 22, 1912 – July 1, 2009) was an American actor. In a career that spanned more than seven decades, he featured in classic Marlon Brando films such as A Streetcar Named Desire, On the Waterfront and One-Eyed Jacks. Among other notable film roles were Archie Lee Meighan in Baby Doll, Zebulon Prescott in How the West Was Won and General Omar Bradley in Patton. His best-known role was on television as Lt. Mike Stone on the 1970s crime drama, The Streets of San Francisco. During the 1970s and 1980s, he was the spokesman for American Express, reminding cardholders "Don't leave home without it".   Description above from the Wikipedia article Karl Malden, licensed under CC-BY-SA, full list of contributors on Wikipedia.
View page with full filmography
Related articles