List of the 10 best rated episodes from the TV show Ben 10: Omniverse from the 57 listed on our webite. Order based on the average from the IMDB and TMDB ratings
A
fter parting ways with Gwen and Kevin, Ben is assigned a new alien partner named Rook Blanko. Meanwhile, Khyber the Hunstman targets Ben as his next prey.
View page
Watch online
K
evin, Rook and Argit run into OTTO, an old enemy who tricked Kevin and Argit by stranding them alone in the Null Void. While attending an intergalactic auto show on Khoros, OTTO and Violent Offenders end up stealing some of the most expensive cars, and its up to the gang to stop them with some help from Ben.
View page
Watch online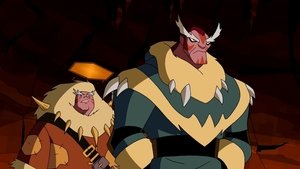 B
en and Rook come across elastic, hot blooded aliens that plan to activate a volcano with a nuclear bomb engine.
View page
Watch online
P
rofessor Paradox unites the good Bens from across all dimensions to take on Vilgax, Eon, and the evil Bens in the ultimate showdown.
View page
Watch online
B
en, Gwen and Cousin Lucy try to find out how Psyphon's thugs are getting Plumber technology. Gwen suspects that Lucy is the mole because of all her shape-shifting abilities, and her love of tricks when she was younger.
View page
Watch online
A
fter Ben falls for Albedo's trap, Grandpa Max and Rook search all over the galaxy looking for Ben. Meanwhile he's secretly trapped on Khyber's hidden personal hunting preserve fighting Khyber's new pet that now wears the Nemetrix.
View page
Watch online
G
wen and Kevin visit Bellwood. Kevin tells Ben that he must hide himself from The Tetramand Princess Looma as she is hunting him as Looma wishes to marry Kevin.
View page
Watch online
B
en and Rook are called to London to investigate the Forever Knights' latest activities.
View page
Watch online
Ben 10: Omniverse is an American animated television series currently airing on Cartoon Network, in the United States. The series is the fourth installment in the Ben 10 franchise. Man of Action created the franchise. The series was announced at Cartoon Network's Upfront in 2011. Concept art, described as an homage to the original Ben 10 series, designed by Derrick J. Wyatt was first unveiled at the 2012 UK Toy Fair. The series premiered on September 22, 2012, with a "sneak episode" that aired on August 1, 2012. A "sneak peek" of the series aired after "Ben 10 Week". The show has been on hiatus since April 2013, and new episodes are scheduled to return on 5 October.
Related articles