List of the 10 best films tagged with dinosaur, order based on the average from the IMDB, TMDB and Rotten Tomatoes ratings
T
here's only one person who so accurately personifies movie magic in the history of film, and that man is special effects maestro Ray Harryhausen. Focusing on the man behind the landmark effects on films like Clash Of The Titans, One Million Years B.C., Jason And The Argonauts and many more, this in-depth film features interviews with the great man himself, and with an array of animators and directors influenced by his work including Guillermo del Toro, Peter Jackson, Nick Park, Terry Gilliam, James Cameron and Steven Spielberg. The film also features unseen footage of tests and experiments recently uncovered.
View page
Watch online
A
fter the events of "Ice Age: The Meltdown", life begins to change for Manny and his friends: Scrat is still on the hunt to hold onto his beloved acorn, while finding a possible romance in a female sabre-toothed squirrel named Scratte. Manny and Ellie, having since become an item, are expecting a baby, which leaves Manny anxious to ensure that everything is perfect for when his baby arrives. Diego is fed up with being treated like a house-cat and ponders the notion that he is becoming too laid-back. Sid begins to wish for a family of his own, and so steals some dinosaur eggs which leads to Sid ending up in a strange underground world where his herd must rescue him, while dodging dinosaurs and facing danger left and right, and meeting up with a one-eyed weasel known as Buck who hunts dinosaurs intently.
View page
Trailer
Watch online
T
he Beast from 20,000 Fathoms is a 1953 science fiction film directed by Eugène Lourié and stars Paul Christian, Paula Raymond and Cecil Kellaway with visual effects by Ray Harryhausen. The film is about an atomic bomb test in the Arctic Circle that unfreezes a hibernating fictional dinosaur, a Rhedosaurus, that begins to wreak havoc in New York City.
View page
Trailer
Watch online
A
n Edinburgh professor and assorted colleagues follow an explorer's trail down an extinct Icelandic volcano to the earth's center.
View page
Trailer
Watch online
A
dapted from the multi-award winning BBC1 series, Planet Dinosaur 3D recreates the lost world of the dinosaurs in a groundbreaking stereoscopic production. This is one of the most ambitious animated programmes ever attempted for broadcast TV, recreating every detail of these extraordinary animals in an entirely digital production that stretches the boundaries of broadcast 3D with a scale and ambition normally reserved for Hollywood feature films. Planet Dinosaur 3D is a thrilling and immersive journey into a lost world. Pulling together cutting edge research from around the world this programme uses the latest, stunning fossil evidence to chart the rise and fall of the 'Ultimate Killers'; from the iconic Spinosaurus, the largest predator ever to walk the Earth, to Microraptor and the feathered, flying dinosaurs from China. At last, thanks to the advances in technology, and for the first time ever, these monsters can be experienced in all their full, magnificent wonder.
View page
Trailer
Watch online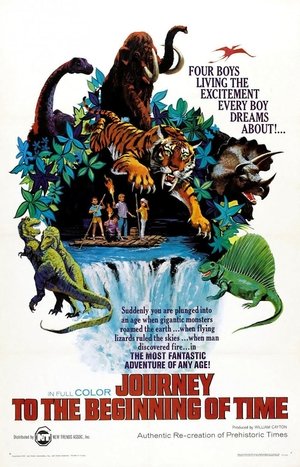 M
ost classical sci-fi from K. Zeman. Four young boys visit a dinosaur exhibit at the New York city Museum of Natural History. They then row out onto Central Park Lake where they find a secret cave and paddle into, and go back-in-time into a wondrous prehistoric world filled with the very dinosaurs they had just seen.
View page
Watch online
T
he impressionistic story of a Texas family in the 1950s. The film follows the life journey of the eldest son, Jack, through the innocence of childhood to his disillusioned adult years as he tries to reconcile a complicated relationship with his father. Jack finds himself a lost soul in the modern world, seeking answers to the origins and meaning of life while questioning the existence of faith.
View page
Trailer
Watch online
F
antasia is the adventurous 1940 experiment from Disney. The film sets Disney animated characters to classical music as Mickey Mouse uses his magic wand to set broomsticks dancing in one of the more famous elaborate scenes. The film was groundbreaking in its usage of animation and music and is still considered a masterpiece decades later.
View page
Trailer
Watch online
D
uring an unfortunate series of events, a friend of Kung Fury is assassinated by the most dangerous kung fu master criminal of all time, Adolf Hitler, a.k.a Kung Führer. Kung Fury decides to travel back in time to Nazi Germany in order to kill Hitler and end the Nazi empire once and for all.
View page
Trailer
Watch online
R
egular opening times do not apply as we accompany Sir David Attenborough on an after-hours journey around London's Natural History Museum, one of his favourite haunts. The museum's various exhibits coming to life, including dinosaurs, reptiles and creatures from the ice age. Shot by the same 3D team that worked on Gravity, examines how the animals and creatures at the London museum once roamed the earth.
View page
Trailer
Watch online
Related articles