List of the 10 best movies starring Humphrey Bogart, order based on the average from the IMDB, TMDB and Rotten Tomatoes ratings
Role in movie: James Frazier
I
n New York, the boys Rocky Sullivan and Jerry Connelly are best friends and small time thieves. After a robbery, Rocky is arrested and sent to a reformatory school, where he begins his criminal career. Jerry escapes and later becomes a priest. After three years in prison, Rocky is released and demands the return of $100,000 deposited with his Solicitor - prior to his jail term.
View page
Trailer
Watch online
Role in movie: Linus Larrabee
L
inus and David Larrabee are the two sons of a very wealthy family. Linus is all work -- busily running the family corporate empire, he has no time for a wife and family. David is all play -- technically he is employed by the family business, but never shows up for work, spends all his time entertaining, and has been married and divorced three times. Meanwhile, Sabrina Fairchild is the young, shy, and awkward daughter of the household chauffeur, who has been infatuated with David all her life, but David hardly notices her -- "doesn't even know I exist" -- until she goes away to Paris for two years, and returns an elegant, sophisticated, beautiful woman. Suddenly, she finds that she has captured David's attention, but just as she does so, she finds herself falling in love with Linus, and she finds that Linus is also falling in love with her.
View page
Trailer
Watch online
Role in movie: Charlie Allnut
A
t the start of the first World War, in the middle of Africa's nowhere, a gin soaked riverboat captain is persuaded by a strong-willed missionary to go down river and face-off a German warship.
View page
Trailer
Watch online
Role in movie: Steve Morgan
A
Martinique charter boat skipper gets mixed up with the underground French resistance operatives during WWII.
View page
Trailer
Watch online
Role in movie: Dixon Steele
D
ixon 'Dix' Steele, a down-on-his-luck screenwriter needs to adapt a trashy novel. At a night club, the hat-check girl, Mildred Atkinson is engrossed reading it. Too tired to read the novel, he asks Mildred to go home with him, to explain the plot. Later that night, Mildred is murdered and Steele is a prime suspect, his record of violence when angry goes against him.
View page
Trailer
Watch online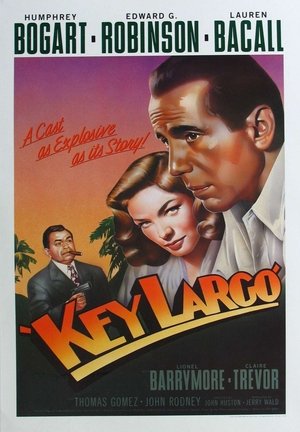 Role in movie: Frank McCloud
A
hurricane swells outside, but it's nothing compared to the storm within the hotel at Key Largo. There, sadistic mobster Johnny Rocco (Robinson) holes up -- and holds at gunpoint hotel owner Nora Temple (Bacall), her invalid father-in-law (Barrymore) and ex-GI Frank McCloud (Bogart).
View page
Trailer
Watch online
Role in movie: Philip Marlowe
P
rivate Detective Philip Marlowe is hired by a rich family. Before the complex case is over, he's seen murder, blackmail, and what might be love.
View page
Trailer
Watch online
S
pade and Archer is the name of a San Francisco detective agency. That's for Sam Spade and Miles Archer. The two men are partners, but Sam doesn't like Miles much. A knockout, who goes by the name of Miss Wanderly, walks into their office; and by that night everything's changed. Miles is dead. And so is a man named Floyd Thursby. It seems Miss Wanderly is surrounded by dangerous men. There's Joel Cairo, who uses gardenia-scented calling cards. There's Kasper Gutman, with his enormous girth and feigned civility. Her only hope of protection comes from Sam, who is suspected by the police of one or the other murder. More murders are yet to come.
View page
Trailer
Watch online
Role in movie: Fred C. Dobbs
F
red C. Dobbs and Bob Curtin, both down on their luck in Tampico, Mexico in 1925, meet up with a grizzled prospector named Howard and decide to join with him in search of gold in the wilds of central Mexico. Through enormous difficulties, they eventually succeed in finding gold, but bandits, the elements, and most especially greed threaten to turn their success into disaster.
View page
Trailer
Watch online
Role in movie: Rick Blaine
C
asablanca is a classic and one of the most revered films of all time. Starring Humphrey Bogart and Ingrid Bergman in a love triangle in the city of Casablanca which is a refuge for many fleeing foreigners looking for a new life during the war. Political romance with a backdrop of war conflict between democracy and totalitarianism. A landmark in film history.
View page
Trailer
Watch online
From Wikipedia, the free encyclopedia.   Humphrey DeForest Bogart (December 25, 1899 – January 14, 1957) was an American actor. He is widely regarded as a cultural icon. The American Film Institute ranked Bogart as the greatest male star in the history of American cinema. After trying various jobs, Bogart began acting in 1921 and became a regular in Broadway productions in the 1920s and 1930s. When the stock market crash of 1929 reduced the demand for plays, Bogart turned to film. His first great success was as Duke Mantee in The Petrified Forest (1936), and this led to a period of typecasting as a gangster with films such as Angels with Dirty Faces (1938) and B-movies like The Return of Doctor X (1939). His breakthrough as a leading man came in 1941, with High Sierra and The Maltese Falcon. The next year, his performance in Casablanca raised him to the peak of his profession and, at the same time, cemented his trademark film persona, that of the hard-boiled cynic who ultimately shows his noble side. Other successes followed, including To Have and Have Not (1944), The Big Sleep (1946), Dark Passage (1947) and Key Largo (1948), with his wife Lauren Bacall; The Treasure of the Sierra Madre (1948); The African Queen (1951), for which he won his only Academy Award; Sabrina (1954) and The Caine Mutiny (1954). His last movie was The Harder They Fall (1956). During a film career of almost thirty years, he appeared in 75 feature films. Description above from the Wikipedia article Humphrey Bogart, licensed under CC-BY-SA, full list of contributors on Wikipedia.
View page with full filmography
Related articles