List of the 10 best movies starring Stan Lee, order based on the average from the IMDB, TMDB and Rotten Tomatoes ratings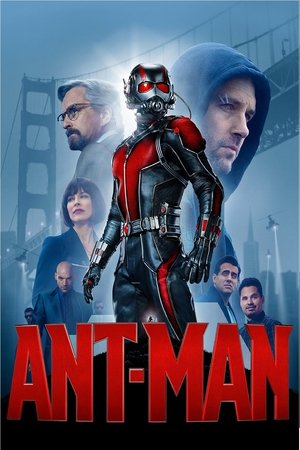 A
rmed with the astonishing ability to shrink in scale but increase in strength, con-man Scott Lang must embrace his inner-hero and help his mentor, Dr. Hank Pym, protect the secret behind his spectacular Ant-Man suit from a new generation of towering threats. Against seemingly insurmountable obstacles, Pym and Lang must plan and pull off a heist that will save the world.
View page
Trailer
Watch online
Role in movie: Man Dodging Debris
P
eter Parker is going through a major identity crisis. Burned out from being Spider-Man, he decides to shelve his superhero alter ego, which leaves the city suffering in the wake of carnage left by the evil Doc Ock. In the meantime, Parker still can't act on his feelings for Mary Jane Watson, a girl he's loved since childhood.
View page
Trailer
Watch online
Role in movie: World War II Veteran
W
hen Tony Stark tries to jumpstart a dormant peacekeeping program, things go awry and Earth's Mightiest Heroes are put to the ultimate test as the fate of the planet hangs in the balance. As the villainous Ultron emerges, it is up to The Avengers to stop him from enacting his terrible plans, and soon uneasy alliances and unexpected action pave the way for an epic and unique global adventure.
View page
Trailer
Watch online
T
ony Stark. Genius, billionaire, playboy, philanthropist. Son of legendary inventor and weapons contractor Howard Stark. When Tony Stark is assigned to give a weapons presentation to an Iraqi unit led by Lt. Col. James Rhodes, he's given a ride on enemy lines. That ride ends badly when Stark's Humvee that he's riding in is attacked by enemy combatants. He survives - barely - with a chest full of shrapnel and a car battery attached to his heart. In order to survive he comes up with a way to miniaturize the battery and figures out that the battery can power something else. Thus Iron Man is born. He uses the primitive device to escape from the cave in Iraq. Once back home, he then begins work on perfecting the Iron Man suit. But the man who was put in charge of Stark Industries has plans of his own to take over Tony's technology for other matters.
View page
Trailer
Watch online
I
n celebration of the publisher's 75th anniversary, the hour-long special will take a detailed look at the company's journey from fledgling comics publisher to multi-media juggernaut. Hosted by Emily VanCamp (S.H.I.E.L.D. Agent Sharon Carter), the documentary-style feature will include interviews with comic book icons, pop culture authorities, and Hollywood stars. The special also promises an "extraordinary peek into Marvel's future!" Might Marvel release the first official footage from next year's Avengers: Age of Ultron or Ant-Man? If they do, you'll know about it here.
View page
Watch online
Role in movie: Security Guard
A
fter the cataclysmic events in New York with The Avengers, Steve Rogers, aka Captain America is living quietly in Washington, D.C. and trying to adjust to the modern world. But when a S.H.I.E.L.D. colleague comes under attack, Steve becomes embroiled in a web of intrigue that threatens to put the world at risk. Joining forces with the Black Widow, Captain America struggles to expose the ever-widening conspiracy while fighting off professional assassins sent to silence him at every turn. When the full scope of the villainous plot is revealed, Captain America and the Black Widow enlist the help of a new ally, the Falcon. However, they soon find themselves up against an unexpected and formidable enemy—the Winter Soldier.
View page
Trailer
Watch online
Role in movie: Fred's Dad (voice)
T
he special bond that develops between plus-sized inflatable robot Baymax, and prodigy Hiro Hamada, who team up with a group of friends to form a band of high-tech heroes.
View page
Watch online
Role in movie: FedEx Driver
F
ollowing the events of Age of Ultron, the collective governments of the world pass an act designed to regulate all superhuman activity. This polarizes opinion amongst the Avengers, causing two factions to side with Iron Man or Captain America, which causes an epic battle between former allies.
View page
Trailer
Watch online
Role in movie: Xandarian Ladies' Man
L
ight years from Earth, 26 years after being abducted, Peter Quill finds himself the prime target of a manhunt after discovering an orb wanted by Ronan the Accuser.
View page
Watch online
Role in movie: Old Man in TV Report
N
ick Fury is director of S.H.I.E.L.D, an international peace keeping agency. The agency is a who's who of Marvel Super Heroes, with Iron Man, The Incredible Hulk, Thor, Captain America, Hawkeye and Black Widow. When global security is threatened by Loki and his cohorts, Nick Fury and his team will need all their powers to save the world from disaster.
View page
Trailer
Watch online
From Wikipedia, the free encyclopedia Stan Lee (born Stanley Martin Lieber; December 28, 1922)  is an American comic book writer, editor, actor, producer, publisher, television personality, and the former president and chairman of Marvel Comics. In collaboration with several artists, most notably Jack Kirby and Steve Ditko, he co-created Spider-Man, the Fantastic Four, the X-Men, the Avengers, Iron Man, the Hulk, Thor, Daredevil, Doctor Strange, and many other fictional characters, introducing complex, naturalistic characters and a thoroughly shared universe into superhero comic books. In addition, he headed the first major successful challenge to the industry's censorship organization, the Comics Code Authority, and forced it to reform its policies. Lee subsequently led the expansion of Marvel Comics from a small division of a publishing house to a large multimedia corporation. He was inducted into the comic book industry's Will Eisner Comic Book Hall of Fame in 1994 and the Jack Kirby Hall of Fame in 1995. Description above from the Wikipedia article Stan Lee, licensed under CC-BY-SA, full list of contributors on Wikipedia.
View page with full filmography
Related articles