List of the 10 best movies starring Errol Flynn, order based on the average from the IMDB, TMDB and Rotten Tomatoes ratings
Role in movie: George Armstrong Custer
Role in movie: Major Geoffrey Vickers
M
ajor Vickers is an Officer in the 27th Lancers in India in 1856. Whilst the regiment is out on manoeuvres, the barracks are attacked by Surat Khan and his soldiers who massacre British women and children. This leaves an inextinguishable memory and Vickers promises to avenge the dead.
View page
Trailer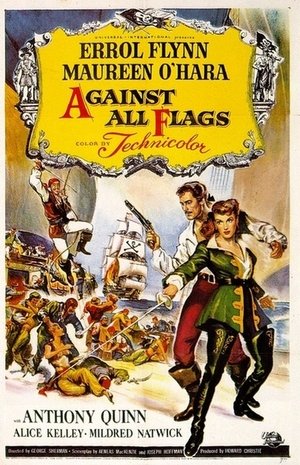 Role in movie: Brian Hawke
Role in movie: Wade Hatton
M
ichael Curtiz's epic Western stars Errol Flynn as Wade Hatton, a wagon master turned sheriff who tames a cow town at the end of a railroad line.
View page
Trailer
Watch online
Role in movie: Jean Picard
E
rrol Flynn is atypically cast as French criminal Jean Picard, a craven coward whose many misdeeds have earned him a date with the guillotine. Detective Marcel Bonet (Paul Lukas) intends to see that Picard keeps his appointment with the executioner, despite the fact that there's a war on. When the Nazis capture 100 French hostages to force a resistance saboteur to surrender himself, Picard offers to pose as the saboteur and thereby save the lives of the innocent villagers. In truth, he plans to escape once he's turned himself over to the Nazis, leaving the villagers in the lurch, but at the last moment his latent patriotism overcomes his sense of self-preservation.
View page
Watch online
Role in movie: Dr Peter Blood
Role in movie: James J. Corbett
A
s bareknuckled boxing enters the modern era, brash extrovert Jim Corbett uses new rules and dazzlingly innovative footwork to rise to the top of the top of the boxing world.
View page
Trailer
Watch online
Role in movie: Captain Geoffrey Thorpe
D
ashing pirate Geoffrey Thorpe (Errol Flynn) plunders Spanish ships for Queen Elizabeth I and falls in love with Dona Maria a beautiful Spanish royal he captures.
View page
Trailer
Watch online
Role in movie: Himself - at Banquet (archive footage) (uncredited)
Role in movie: Robin Hood
R
obin Hood (Errol Flynn) fights nobly for justice against the evil Sir Guy of Gisbourne (Basil Rathbone) while striving to win the hand of the beautiful Maid Marian (Olivia de Havilland).
View page
Trailer
Watch online
From Wikipedia, the free encyclopedia. Errol Leslie Flynn (20 June 1909 – 14 October 1959) was an Australian actor. He was known for his romantic swashbuckler roles in Hollywood films and his flamboyant lifestyle. Description above from the Wikipedia article Errol Flynn, licensed under CC-BY-SA, full list of contributors on Wikipedia
View page with full filmography
Related articles