List of the 10 best rated episodes from the TV show Downton Abbey from the 52 listed on our webite. Order based on the average from the IMDB and TMDB ratings
A
n extravagant house party at the Abbey gives the Crawleys a chance to reconnect with old friends. But some guests prove more welcome than others, and along with the celebrations come skulduggery and heartache.
View page
Watch online
A
mid the fallout from the eventful house party, Mary faces a pressing question about her future. Carson reveals surprisingly intimate details of his former life, and a trip to the bright lights of London sees Rose put the reputation of the Crawleys in jeopardy.
View page
Watch online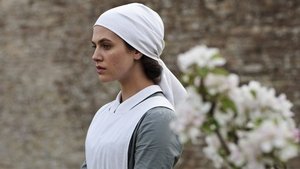 C
arson is finding it tough maintaining standards in the house, and the suicide of a young officer prompts Isobel to suggest converting Downton Abbey into a convalescent hospital.
View page
Watch online
T
he estate's future is hanging in the balance and Mary is hoping to receive a bailout from grandmother Martha. Violet also attempts to help her make sure that Downton puts on a bigger show than ever before with a grand party for friends and neighbours. Mrs Hughes gets some news that worries her. O'Brien's attempts to boost Alfred's progress are met with disapproval from Thomas.
View page
Watch online
B
ertie's circumstances change suddenly, leaving Edith uncertain whether to risk telling him the truth or keep her past a secret at all costs. Mary wonders if she can ever make peace with her sister as hostilities escalate, Spratt shows some hidden talents and Molesley's first day as a teacher does not go according to plan. Mrs Patmore's bed and breakfast attracts unwanted attention, leaving her in need of the Crawleys' help.
View page
Watch online
I
t's a good day as Anna's patience is rewarded and Edith gets some admiration from an unexpected quarter. Matthew refuses to back down over the estate management. Branson's plan for the christening causes some consternation, as does the sudden arrival of his brother.
View page
Watch online
T
empers are left on edge after a kind gesture by Isobel backfires. Mary attempts to fight Branson's corner after his decisions are put under scrutiny. Robert and Cora's relationship feels the strain and Violet attempts to make them see things differently. Some extreme measures are taken by Bates.
View page
Watch online
T
here's excitement in the house and village as the annual cricket match approaches, and the event brings out Robert's competitive side. Violet's great-niece Rose shows up but a trip to London reveals there is more to her than meets the eye. Matthew and Mary look like they are keeping secrets from each other. Thomas finds out that his future lies in Carson's hands.
View page
Watch online
T
wo-hour Christmas special and the series finale. Mary endeavors to build bridges with her sister while Edith's secret continues to pose a threat. As Henry settles into the role of husband and stepfather, finding his place at Downton proves more difficult.
View page
Watch online
A
n exciting offer for Edith divides opinion in the house. Isobel ends up throwing Ethel a lifeline. Ivy is attracting plenty of attention below stairs. Anna's perseverance finally pays off for her.
View page
Watch online
A chronicle of the lives of the aristocratic Crawley family and their servants in the post-Edwardian era—with great events in history having an effect on their lives and on the British social hierarchy.
Related articles