List of the 10 best rated episodes from the TV show Monk from the 125 listed on our webite. Order based on the average from the IMDB and TMDB ratings
M
onk is reunited with his agoraphobic brother, Ambrose, after the murder of an armored car driver.
View page
Watch online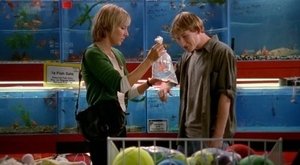 W
ith Sharona in New Jersey remarried to her ex-husband, Monk has been without an assistant for three months and it's time to find a new one--if only he could find a suitable applicant. When Natalie Teeger, a thirty-something widow with an eleven-year-old daughter, arrives at his house, he thinks she's applying for the job, but she's really been sent by Captain Stottlemeyer to get Monk's help--two men have broken into her apartment in the last few days and she had to kill the second one with scissors in self-defense. Examining Natalie's apartment, Monk finds a single clue, an unused fish net caught between the sofa cushions, suggesting that the intruders were trying to steal Mr. Henry, Julie's pet fish. But why would anyone want to steal a ninety-nine-cent red herring, er, crimson marblefish? A second clue surfaces when Lieutenant Disher finds a note in the dead perp's pocket reading ""2:30 Sea of Tranquility"" and Natalie identifies the Sea of Tranquility as an exhibit at the science mus
View page
Watch online
M
onk finds himself adrift in an ocean of filth when a garbage strike brings San Francisco to a halt...and Adrian to near-paralysis.
View page
Watch online
M
onk is arrested for murder, and finds that he has to go on the lam to clear himself.
View page
Watch online
W
hen John Ricca, author of a controversial and unfavorable biography of martial artist Sonny (""the Cobra"") Chow, is found dead in his home, all the evidence points to Chow as the murderer. Unfortunately for Captain Stottlemeyer, his chief suspect has been dead for six years. While Monk and Natalie (who's more interested in being reimbursed for her business expenses than in solving the case) visit Chow's former teacher, Master Zee, who claims that Chow died in his arms, Stottlemeyer resorts to having the corpse dug up to prove that, despite rumors to the contrary, Chow is indeed dead. A dental X-ray proving that the corpse is Chow leaves Monk to figure out who tried to frame the dead man for murder. On an inadvertent tip from Disher, an avid Cobra fan, Monk and Natalie visit the Sonny Chow museum, where Monk finds two important clues--a hairbrush that has been stolen from its case and replaced with a lookalike and the stamp that the museum proprietor placed on Natalie's hand so that she
View page
Watch online
M
onk is called to a murder at the location where he first heard of his wife's murder, and while Monk figures out who the assassin is, he doesn't know that the one who ordered the hit is also responsible for the death of Trudy. Knowing that Monk will eventually put all the pieces together, he orders Monk's death, and when all hope seems lost, Monk discovers something which could finally end his 12-year nightmare.
View page
Watch online
A
fter twenty-two-month-old Tommy Graser finds a severed finger and gives it to a policeman, Monk walks through the park with Tommy trying to retrace the child's steps. He finds no body or other incriminating evidence, but he does discover a surprising affection for the placid and intelligent toddler, who constantly repeats Monk's name and quietly submits to having his hands wiped when he touches ""nature."" A lab technician identifies the finger as that of a twenty-five-year-old man, and Monk deduces from a callus that the young man played the violin. After visiting the home of Daniel Carlyle, a musician who fits this description, Monk concludes that Daniel's mother and her other son, Jason, killed Daniel and that Jason is masquerading as his brother. Meanwhile, little Tommy is temporarily removed from the custody of his foster parents, and Monk surprises everyone, including himself, by volunteering to care for him for two weeks until his new adoptive parents can take him. With Tommy in
View page
Watch online
M
onk is summoned to jury duty against his wishes and must solve two crimes: he has to convince the jury the defendent is not guilty, and solve the mystery of a corpse outside the jury room's window.
View page
Watch online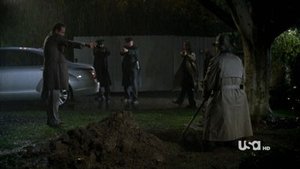 A
fter listening to Trudy's last message, Monk finally discovers who killed his wife. Racing against time before he dies of poison, he must make a fateful decision.
View page
Watch online
Monk is an American comedy-drama detective mystery television series created by Andy Breckman and starring Tony Shalhoub as the eponymous character, Adrian Monk. It originally ran from 2002 to 2009 and is primarily a mystery series, although it has dark and comic touches. The series was produced by Mandeville Films and Touchstone Television in association with Universal Television. The series debuted on July 12, 2002, on USA Network. It was well received and continued for eight seasons, with the final season concluding on December 4, 2009. The series held the record for the most-watched scripted drama episode in cable television history from 2009 through 2012 with "Mr. Monk and the End – Part II", its last episode and finale, with 9.4 million viewers, 3.2 million of them in the 18–49 demographic.
Related articles