List of the 10 best rated episodes from the TV show The West Wing from the 155 listed on our webite. Order based on the average from the IMDB and TMDB ratings
A
bbey is in New Hamphire with Liz Bartlet-Westin and they are awaiting the results of Doug Westin's campaign for a seat in Congress. Members of both the Santos campaign and the Vinick campaign must decide how to handle a tragedy, as the voters around the country continue to cast their votes for the next President of the United States.
View page
Watch online
F
ormer series regulars, including Marlee Matlin, Mary-Louise Parker, Tim Matheson, Anna Deavere Smith and Gary Cole, make guest appearances as Bartlet, Santos and their staff members attend a funeral for one of their own. Also, Josh cautions Santos about getting involved in the vote for Speaker of the House.
View page
Watch online
A
fter the Supreme Court refuses to stay the execution of a convicted murderer, Bartlet has forty-eight hours to decide whether or not to commute the sentence; Josh faces off with Joey Lucas about his staff's not backing her candidate as vigorously as she'd like.
View page
Watch online
B
artlet, Leo, Josh, Sam and C.J. pull a practical joke on Toby; Sam's mission to end the Wilde campaign leads him to make a career-altering decision; Jordan backs up Leo as he deals with the Qumari; Toby continues to press his case with a resistant Andrea; and Bartlet cleans Ritchie's clock in their debate.
View page
Watch online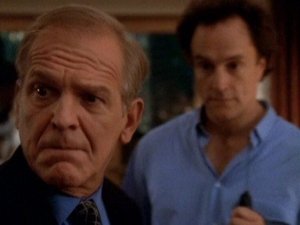 W
ith the accomplice in custody, it's revealed that the intended target was Charlie, not Bartlet. The staff still awaits news about Josh, and recalls how C.J. and Donna came to join the Bartlet campaign.
View page
Watch online
"
In the Shadow of Two Gunmen" is the two-part second season premiere of the American political drama television seriesThe West Wing. Both parts were written by Aaron Sorkin and directed by Thomas Schlamme.
View page
Watch online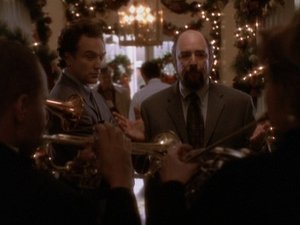 J
osh investigates the suicide of a pilot with whom he has things in common; Donna tries to get an invitation to the Congressional Christmas party to hear Yo-Yo Ma perform; Jed insists on signing a mountain of Christmas cards himself; after a White House visitor has a strange reaction to a painting, C.J. sets out to discover its provenance; following weeks of volatile behavior and an outburst in the Oval Office, Josh meets with representatives from the America Trauma Victims Association and finally deals with the trauma from his shooting.
View page
Watch online
W
hen Bartlet learns that Zoey's kidnapping is the work of Qumari terrorists, he invokes the 25th amendment to diminish their leverage and eliminate any conflict of interest; since there's no Vice President, the power of the Presidency passes to Bartlet's chief political rival and the most powerful Republican in the country, the Speaker of the House, who immediately takes a very hard line; now that twins Huck and Molly have arrived, Toby wonders if he's capable of loving them enough.
View page
Watch online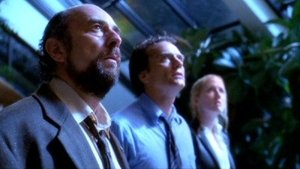 D
onna teaches Toby and Josh an important lesson as their trek homeward continues; Sam staffs the President in Josh's absence and welcomes an old friend home; Bartlet hires a secretary and C.J. finds a Big Brother for Anthony; the situation in Qumar continues to escalate; Bartlet gets spooked by a photo op as the Dow continues its dive; and a pipe bomb kills 44 students at a Midwest university swim meet.
View page
Watch online
O
n the day of Mrs. Landingham's funeral, the staff deals with a Haitian presidential crisis and the law suit against the big tobacco companies, and Bartlet must decide about running for reelection.
View page
Watch online
The West Wing is an American television serial drama created by Aaron Sorkin that was originally broadcast on NBC from September 22, 1999, to May 14, 2006. The series is set primarily in the West Wing of the White House, where the Oval Office and offices of presidential senior staff are located, during the fictional Democratic administration of Josiah Bartlet.
Related articles