List of the 10 worst movies of the decade 1980, order based on the average from the IMDB, TMDB and Rotten Tomatoes ratings
A
reporter interviews fighters and promoters about Bruce Lee, intercut with footage from old Bruce Lee films and pseudo-documentary footage.
View page
Trailer
Watch online
W
hen the evil alien Zanon comes to enslave earth, all hope seems lost. The Earth's resident superheroes, the Spacewomen, are powerless to stop him. They must enlist the help of a young boy who has a special connection with the giant turtle Gamera. The Friend of All Children then battles Gyaos (a flying monster), Zigra (an alien shark), Viras (a space squid), Jiger (a giant lizard), Guiron (a space beast) and finally Barugon (another giant lizard). Gamera then sacrifices himself to kill Zanon by destroying the space pirate's ship.
View page
Watch online
I
n the future, Earth is overcrowded and the population relies on distant bases to be fed. In the Saturn 3 station, Major Adam and the scientist Alex, who is also his lover and has never been on Earth, have been researching hydroponics for three years in the base alone with their dog Sally. Meanwhile, the psychotic Captain Benson fails the mental test required to travel to Saturn 3 and kills his replacement, Captain James, taking his place in the mission of assembling and programming the Demi-God series robot Hector to replace one of the scientists in Saturn 3. On the arrival, the mentally disturbed Captain Benson becomes sexually obsessed for Alex. Then he uses an interface to link his brain to program Hector, but incapable to control his emotions, he transfers his homicidal tendency and insanity to Hector. Now Major Adam and Alex are trapped in the station with a dangerous psychopath robot.
View page
Trailer
Watch online
T
his is the South Indian version of Superman. The hero, Raja, witnesses the murder of his parents by cowboys. He vows revenge, and spends the rest of the 2 hours and 15 minutes of the flick getting his revenge. Throw in some dance numbers, bad hairdos, outrageous acting, and you have yourself a classic of Indian Cinema few have ever seen. The actor who plays Superman, Rama Rao Taraka Nandamuri, looks like a fat Elvis impersonator.
View page
Watch online
A
n active volcano threatens a south Pacific island resort and its guests as a power struggle ensues between the property's developer and a drilling foreman.
View page
Trailer
Watch online
T
he lovely Laura, on a modelling job in South Africa, is kidnapped by a gang who carry her off into the jungle from where they demand a huge ransom. Two men set off in a helicopter to rescue her, little knowing what horrors Laura is enduring in the meantime in the savage clutches of a primitive and bloodthristy world. Laura's rescuers not only have to face the cruel violence of her captors - but also the horrifying lust for blood of a primitive and cruel god.
View page
Watch online
T
hird and final film in the Zorro-like series, following El Latigo / "The Whip" (1978) and El látigo contra Satanás / "The Whip vs. Satan" (1979).
View page
Watch online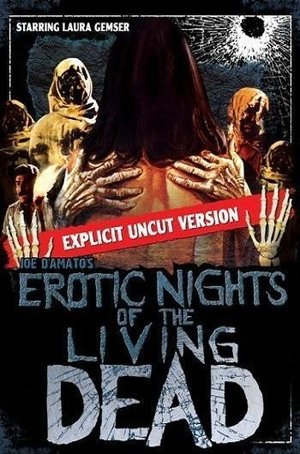 A
sailor takes an American businessman and his girlfriend to an island where the businessman wants to build a resort. Soon a weird voodoo couple show up and warn them of bad things that are going to happen. It doesn't take long for the zombies to show up and start chowing down on human flesh. The main characters do manage to fit in quite a bit of sex though.
View page
Watch online
Related articles