List of the 10 best rated episodes from the TV show Motive from the 45 listed on our webite. Order based on the average from the IMDB and TMDB ratings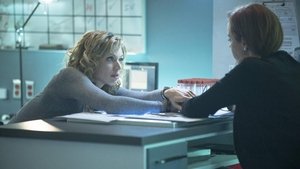 A
case hits close to home for the Homicide team when the victim is one of their own, coroner Dr. Matthews. Detectives Angie Flynn and Oscar Vega lead the investigation with dogged determination, and Dr. Rogers honours the memory of her friend by taking his place in a high-profile trial, only to discover that Dr. Matthews may not be the person she thought he was. Meanwhile, Sergeant Cross blurs the line between professional and personal, which doesn't sit well with Angie.
View page
Watch online
A
father is murdered and his daughter is kidnapped; Angie continues on the Neville Montgomery file.
View page
Watch online
F
lynn and Vega are pulled away from Vega's fathers wedding to investigate a skydiving jump gone wrong. While working the case, Angie makes an effort to regain Vega's trust by sharing a sensitive file that contains information on Sgt. Cross.
View page
Watch online
T
here is no lack of suspects when a famous boxer is discovered stabbed to death in his own gym.
View page
Watch online
F
lynn and Vega investigate the drowning death of a socialite, and an unlikely party becomes a suspect in the case. Meanwhile, tensions between Flynn and Sgt. Cross escalate.
View page
Watch online
T
he team investigates a pilot who may be using his career for murder; Angie copes with Vega.
View page
Watch online
A
case from Cross and Flynn's past reemerges and causes distress for both of them, making Flynn realize they have to be honest about their history.
View page
Watch online
A
bestselling mystery author is murdered. Meanwhile, Det. Lucas' personal life suffers; and Angie receives a welcome surprise.
View page
Watch online
A cat-and-mouse series with a twist on the everyday whodunit, "Motive" centers on Angie Flynn, a detective on a backwards chase for clues to a killer that has already been revealed to viewers. The series, filmed in Vancouver, is an unconventional way to watch a crime unfold. Each episode begins by revealing to the audience, not only the victim, but the killer as well. The homicide detective then begins to piece together clues. How did they do it? How are the victim and killer connected? What's the motive? As the mystery unfolds, the audience navigates the twisted and complicated maze of each murder and solves the puzzle alongside Det. Flynn and her team.
Related articles