List of the 10 best movies starring Kirk Douglas, order based on the average from the IMDB, TMDB and Rotten Tomatoes ratings
Role in movie: Vincent Van Gogh
Role in movie: Walter O'Neil
A
ruthless, domineering woman is married to an alcoholic D.A., her childhood companion who is the only living witness to her murder of her rich aunt seventeen years earlier.
View page
Trailer
Watch online
T
he Devil's Disciple is a 1959 film adaptation of the George Bernard Shaw play of the same title. The Anglo-American film was directed by Guy Hamilton who replaced Alexander Mackendrick and starred Burt Lancaster, Kirk Douglas, and Laurence Olivier. Mary Grant designed the film's costumes.
View page
Role in movie: Himself - Interviewee
I
n 2001 Jack Cardiff (1914-2009) became the first director of photography in the history of the Academy Awards to win an Honorary Oscar. But the first time he clasped the famous statuette in his hand was a half-century earlier when his Technicolor camerawork was awarded for Powell and Pressburger's Black Narcissus. Beyond John Huston's The African Queen and King Vidor's War and Peace, the films of the British-Hungarian creative duo (The Red Shoes and A Matter of Life and Death too) guaranteed immortality for the renowned cameraman whose career spanned seventy years.
View page
Watch online
Role in movie: Col. Martin 'Jiggs' Casey
U
S military leaders plot to overthrow the President because he supports a nuclear disarmament treaty and they fear a Soviet sneak attack.
View page
Trailer
Watch online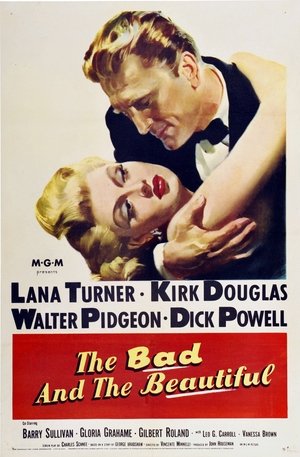 Role in movie: Jonathan Shields
T
old in flashback form, the film traces the rise and fall of a tough, ambitious Hollywood producer Jonathan Shields, as seen through the eyes of various acquaintances, including a writer James Lee Bartlow, a star Georgia Lorrison and a director Fred Amiel. He is a hard-driving, ambitious man who ruthlessly uses everyone - including the writer, star and director - on the way to becoming one of Hollywood's top movie makers.
View page
Trailer
Watch online
S
partacus is a 1960 American historical drama film directed by Stanley Kubrick and based on the novel of the same name by Howard Fast about the historical life of Spartacus and the Third Servile War. The film stars Kirk Douglas as the rebellious slave Spartacus who leads a violent revolt against the decadent Roman empire. The film was awarded four Oscars and stands today as one of the greatest classics of the Sword and Sandal genre.
View page
Trailer
Watch online
Role in movie: Whit Sterling
J
eff Bailey seems to be a mundane gas station owner in remote Bridgeport, CA. He is dating local girl Ann Miller and lives a quiet life. Town lawman Jim is in love with Ann and unsure about Jeff, who is secretive about his past.
View page
Trailer
Watch online
Role in movie: Chuck Tatum
A
frustrated former big-city journalist now stuck working for an Albuquerque newspaper exploits a story about a man trapped in a cave to revitalize his career, but the situation quickly escalates into an out-of-control media circus.
View page
Trailer
Watch online
D
uring World War I, commanding officer General Broulard (Adolphe Menjou) orders his subordinate, General Mireau (George Macready), to attack a German trench position, offering a promotion as an incentive. Though the mission is foolhardy to the point of suicide, Mireau commands his own subordinate, Colonel Dax (Kirk Douglas), to plan the attack. When it ends in disaster, General Mireau demands the court-martial of three random soldiers in order to save face.
View page
Trailer
From Wikipedia, the free encyclopedia. Kirk Douglas (December 9, 1916) is an American stage and film actor, film producer and author. His popular films include Champion (1949), Ace in the Hole (1951), The Bad and the Beautiful (1952), Lust for Life (1956), Paths of Glory (1957), Gunfight at the O.K. Corral (1957) Spartacus (1960), and Lonely Are the Brave (1962). He is #17 on the American Film Institute's list of the greatest male American screen legends of all time. In 1996, he received the Academy Honorary Award "for 50 years as a creative and moral force in the motion picture community." Description above from the Wikipedia article Kirk Douglas, licensed under CC-BY-SA, full list of contributors on Wikipedia.
View page with full filmography
Related articles