List of the 10 best rated episodes from the TV show Pretty Little Liars from the 140 listed on our webite. Order based on the average from the IMDB and TMDB ratings
I
t's the Halloween before Alison disappeared and where all of the secrets and lies began for Aria, Emily, Hanna and Spencer.
View page
Watch online
H
anna's new interest in crime novels helps her to come up with a plan to try and figure out whose body is in Ali's grave. While Hanna is on her hunt, Spencer is working overtime to decipher the stories in Ali's diary which she hopes will reveal the identity of Ali's mystery man. But with both girls hot on the trail, will their work lead them straight into "A's" path? Meanwhile, Aria is upset with the new friend Mike has made and Emily's dad is concerned about her behavior.
View page
Watch online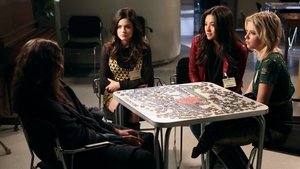 A
s "A" continues to play games, the stakes are raised higher as each girl is forced into difficult positions. Aria starts to seriously contemplate her relationship with Ezra as his new family situation continues to eat away at her. Hanna is thrown into the middle of Caleb's family drama when Jamie's shady past comes back to haunt him. Emily is determined to prove Spencer wrong in hopes of helping her, but she might not be ready for what she finds. In the end, will the Liars be able to get out of their sticky situations or will "A" have them right where he/she wants them? Meanwhile, Spencer searches for answers about Mona's time in Radley Sanitarium.
View page
Watch online
S
pencer is back home and presenting a good front, but Aria, Hanna and Emily are not so sure their friend is fully back after seeing how fragile she was just a day or so before. Unfortunately the girls don't have much time to ponder Spencer's health as shocking revelations are brought to the forefront. With so much happening and new information being uncovered, will the Liars be ready for what is waiting for them?
View page
Watch online
2012
9.08
9.0
9.16666666666667
A
month has passed on "Pretty Little Liars" since Aria, Emily, Hanna and Spencer were arrested and a lot has changed in Rosewood, and with the girls. No longer the mighty four best friends, the Liars are at each others' throats and Emily has been iced out completely. But what could have divided them so severely? Has "A" finally won the game of divide and conquer? With Emily now truly on her own, is she ripe for "A's" picking?
View page
Watch online
A
fter their recent encounter with "A", Aria, Emily, Hanna and Spencer think they may be closer than ever to figuring out whom "A" really is. But when the girls decide to enlist Caleb's hacking skills to help with their quest, Hanna no longer wants a part of the plan. The last thing Hanna wants is to get Caleb involved in something else shady and also to open the door to questions that Hanna can't answer. Once the girls realize that "A" has a helper, Hanna has no other choice. Instead of focusing on figuring out who the "helper" is, Hanna decides to put all of her efforts into throwing a surprise party for Caleb. But will a surprise party at Spencer's lake house be the diversion Hanna is looking for, or just a recipe for disaster?
Meanwhile, Aria and Ezra must deal with the aftermath of coming clean.
View page
Watch online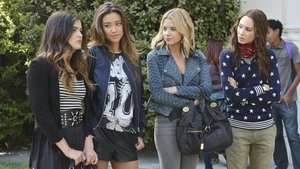 A
lison returns to Rosewood High and attempts to repair the damage she inflicted years earlier.
View page
Watch online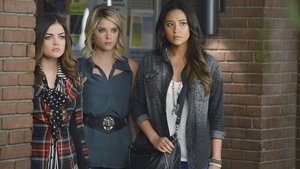 W
hen dealing with matters of the heart, people react in many different ways: Still crushed over her break-up, Spencer continues her downward spiral as she now takes her anger and hurt out on Mona. Caleb, on the other hand, hides his pain by being closed off when discussing his father. But when Hanna devises a plan to bring father and son back together, will that help Caleb heal old wounds or just make things harder? And Aria, who is still missing Ezra, finds she is spending more time with Wes. Meanwhile, Emily and Jason work together to put together the pieces of Ali's trip to Cape May and what really happened during that vacation.
View page
Watch online
W
ith the Rosewood P.D. breathing down Hanna's neck about The Radley security footage, she opts to confess the truth to those closest to her in hopes they can help. Aria continues to search for answers, with help from Emily, on whether Ezra is as guilty as he seems. Spencer works together with Caleb to track down the new threat.
Meanwhile, there is awkwardness all around when new love interests emerge and old ones resurface.
View page
Watch online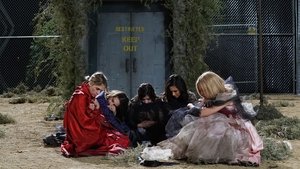 M
oments after where the season five finale left off, Aria, Emily, Hanna, Spencer and Mona are trapped outside of Charles' Dollhouse with nowhere to go and must now deal with an angry tormentor. Just when the Liars thought Charles couldn't get any worse, his games take a more demented and darker turn. As the girls struggle to survive, the puzzle of Charles' story begins to come together.
Meanwhile, Ezra, Caleb and Toby continue the fight to find the girls with or without Rosewood P.D.'s help.
View page
Trailer
Watch online
Based on the Pretty Little Liars series of young adult novels by Sara Shepard, the series follows the lives of four girls — Spencer, Hanna, Aria, and Emily — whose clique falls apart after the disappearance of their queen bee, Alison. One year later, they begin receiving messages from someone using the name "A" who threatens to expose their secrets — including long-hidden ones they thought only Alison knew.
Related articles