List of the 10 best rated episodes from the TV show The Amazing Race from the 96 listed on our webite. Order based on the average from the IMDB and TMDB ratings
T
eams find that luck doesn't pick sides in a sweat-drenched test of endurance where they must choose to face a 153-step climb or take a 35-foot-high lesson in Chingay
View page
Watch online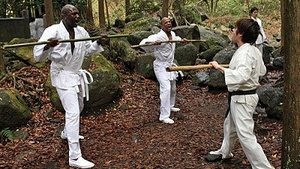 O
verwhelmed by a swarming sea of people on the congested streets of India, one team narrowly dodges a traffic collision while another's clumsiness threatens to spoil their chances of acing the Detour.
View page
Watch online
T
he teams depart from the National Revolutionary Martyrs' Shrine in Taipei, Taiwan, and travel to Yogyakarta, Indonesia with the knowledge that a double-elimination awaits at the Pit Stop. A Roadblock makes racers spelunk into Goa Jomblang to find a mask and dagger to trade for the next clue, which Bill and Cathi have to await to do when confronted with their Speed Bump. The Detour gives everyone a choice to either "Shake Their Money Maker" by dancing and playing music in the streets for donations, or "Be a Ticket Taker" by parking rider's motorbikes. However, following directions when giving their earnings to an orphanage in exchange for the Pit Stop proves tricky for most, leading to a scramble to check in at Kraton Ngayogyakarta Hadiningrat.
View page
Watch online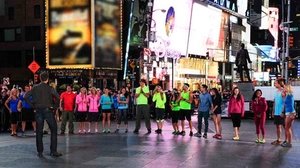 T
he teams begin their adventures in New York's Times Square, where a game-changing element is introduced. Contestants take a gut-wrenching leap of faith.
View page
Watch online
A
fter a potentially game-changing error, one team hopes for a lucky break, and donning only a Speedo for their Detour task, Racers get in touch with their inner exhibitionists.
View page
Watch online
E
leven all-star teams compete for a chance to win the $1 million top prize as the 24th season begins. However, in a dramatic twist, one duo won't make it to the starting line. The other pairs jet off to Guangzhou, China.
View page
Watch online
T
he nineteenth instalment of The Amazing Race commences, with eleven teams embarking on the adventure of a lifetime.
View page
Watch online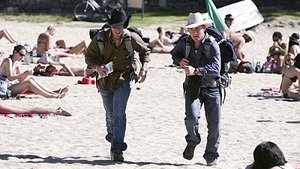 T
he 18th season begins with 11 former teams who failed to win returning for a chance to claim the $1 million prize. The race starts in Palm Springs, Cal., and continues in Sydney, Australia, where the teams swim with sharks and receive a surprise from Phil at the pit stop.
View page
Watch online
The Amazing Race is an American reality game show in which typically eleven teams of two race around the world. The race is split into roughly twelve legs interspersed with physical and mental challenges, and require teams to deduce clues, navigate themselves in foreign areas, interact with locals, perform physical and mental challenges, and vie for airplane, boat, taxi, and other public transportation options on a limited budget provided by the show. Teams are progressively eliminated at the end of each leg; the first of the last three remaining teams to cross the final leg's finish line win US$1 million. As the original version of the Amazing Race franchise, the CBS program has been running since 2001, and has completed broadcasting its 22nd season, with the show renewed for its 23rd. Numerous international versions have been developed following the same core structure, while the U.S. version is also broadcast to several other markets. The show was created by Elise Doganieri and Bertram van Munster, who, along with Jonathan Littman, serve as executive producers. The show is produced by Earthview Inc., Bruckheimer Television for CBS Television Studios and ABC Studios. The series has been hosted by veteran New Zealand television personality Phil Keoghan since its inception.
Related articles