List of the 10 best movies starring John Cleese, order based on the average from the IMDB, TMDB and Rotten Tomatoes ratings
Role in movie: Nearly Headless Nick
H
arry Potter has lived under the stairs at his aunt and uncle's house his whole life. But on his 11th birthday, he learns he's a powerful wizard -- with a place waiting for him at the Hogwarts School of Witchcraft and Wizardry. As he learns to harness his newfound powers with the help of the school's kindly headmaster, Harry uncovers the truth about his parents' deaths -- and about the villain who's to blame.
View page
Trailer
Watch online
F
or the first time ever, comedy legend John Cleese brings his unique comedic perspective to DVD in John Cleese: The Alimony Tour. Best known for his part in 'Monty Python's Flying Circus' and as Basil Fawlty in 'Fawlty Towers,' John Cleese draws on his many years in the limelight as well as some of his own personal interests. In Cleese's very own words: "it is an evening of well honed anecdotes, psychoanalytical tit-bits and unprovoked attacks on former colleagues, especially Michael Palin." Cleese has achieved a lot in his career which started as a sketch writer for BBC Radio's Dick Emery Show and then The Frost Report. After this stardom beckoned, and Monty Python was created with Cleese co-writing and starring in four series and three films. He went on to achieve further great success as the neurotic hotel manager Basil Fawlty in Fawlty Towers, which he co-wrote with then wife Connie Booth.
View page
Watch online
Role in movie: Himself, others
C
elebrate the last night of the Pythons on the big screen! - With John Cleese, Eric Idle, Terry Gilliam, Terry Jones and Michael Palin.
View page
Watch online
Role in movie: Diverse Rollen
M
onty Python's The Meaning of Life is a 1983 musical comedy film by the Monty Python comedy team. Unlike the two previous films they had made, which had more or less each told single, coherent stories, The Meaning of Life returns to the sketch comedy format of the troupe's original television series, loosely structured as a series of comic skits about the various stages of life.
View page
Watch online
Role in movie: Archie Leach
A
diamond advocate is attempting to steal a collection of diamonds, yet troubles arise when he realizes that he is not the only one after the diamonds.
View page
Trailer
Watch online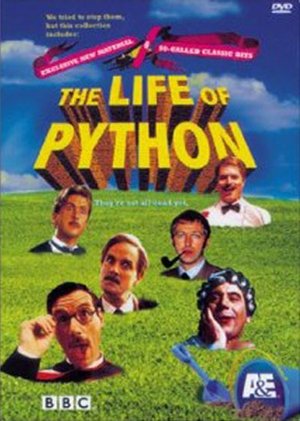 Role in movie: Himself / Various Roles (also archive footage)
T
his BBC documentary tells the history of the Python group, allowing a few glimpses at the works of its predecessors (At Last the 1948 Show, Do Not Adjust Your Sets etc.) and various interviews with the group's members and other associated artists.
View page
Watch online
F
awlty Towers Revisited features the 80-minute, 30th anniversary retrospective TV special on one of the world's funniest and best-loved comedies, as well as an additional 10 minutes of behind-the-scenes stories and recollections from recent interviews with Fawlty Towers' cast and crew.
View page
Watch online
A
brilliant parody from the British comedy group Monty Python about the history of (not Jesus but the boy born right next door to The Manger, Brian). A Terry Jones directed film from 1979 that has since gained cult status. What many fans don't know is that this movie might never have happened if not for the financial assistance of George Harrison (of The Beatles).
View page
Trailer
Watch online
Role in movie: Second Swallow-Savvy Guard / The Black Knight / Peasant 3 / Sir Lancelot the Brave / Taunting French Guard / Tim the Enchanter
M
onty Python and the Holy Grail loosely follows the legend of King Arthur. Arthur along with his squire, Patsy, recruits his Knights of the Round Table, including Sir Bedevere the Wise, Sir Lancelot the Brave, Sir Robin the Not-Quite-So-Brave-As-Sir-Lancelot and Sir Galahad the Pure. On the way Arthur battles the Black Knight who, despite having had all his limbs chopped off, insists he can still fight. They reach Camelot, but Arthur decides not to enter, as "it is a silly place".
View page
Trailer
Watch online
F
resh-faced young Michael Rimmer worms his way into an opinion poll company and is soon running the place. He uses this as a springboard to get into politics and in the mini-skirted flared-trousered world of 1970 Britain starts to rise through the Tory ranks.
View page
Watch online
John Marwood Cleese (born 27 October 1939) is an English actor, comedian, writer and film producer. He achieved success at the Edinburgh Festival Fringe, and as a scriptwriter and performer on The Frost Report. In the late 1960s he became a member of Monty Python, the comedy troupe responsible for the sketch show Monty Python's Flying Circus and the four Monty Python films: And Now for Something Completely Different, Holy Grail, Life of Brian and The Meaning of Life. In the mid 1970s, Cleese and his first wife Connie Booth, co-wrote and starred in the British sitcom Fawlty Towers. Later, he co-starred with Kevin Kline, Jamie Lee Curtis and former Python colleague Michael Palin in A Fish Called Wanda and Fierce Creatures. He also starred in Clockwise, and has appeared in many other films, including two James Bond films, two Harry Potter films, and three Shrek films. With Yes Minister writer Antony Jay he co-founded the production company Video Arts, responsible for making entertaining training films. Description above from the Wikipedia article John Cleese, licensed under CC-BY-SA, full list of contributors on Wikipedia
View page with full filmography
Related articles