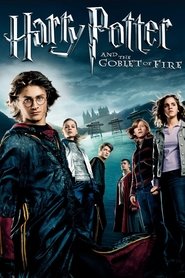 Overview
Young wizard Harry Potter starts his fourth year at Hogwarts, competes in the treacherous Tri-Wizard Tournament and faces the evil Lord Voldemort. Friends Ron and Hermione help Harry manage the pressure … but Voldemort lurks, awaiting his chance to destroy Harry and all that he stands for.
Overview from themoviedb.org
Details

Daniel Radcliffe
Harry Potter
Rupert Grint
Ron Weasley
Emma Watson
Hermione Granger
Ralph Fiennes
Lord Voldemort
Michael Gambon
Albus Dumbledore
Alan Rickman
Severus Snape
Robbie Coltrane
Rubeus Hagrid
Brendan Gleeson
Alastor "Mad-Eye" Moody
Miranda Richardson
Rita Skeeter
Gary Oldman
Sirius Black
Robert Pattinson
Cedric Diggory
Stanislav Ianevski
Viktor Krum
Clémence Poésy
Fleur Delacour
Josh Herdman
Gregory Goyle
Maggie Smith
Minerva McGonagall
Geraldine Somerville
Lily Potter
Matthew Lewis
Neville Longbottom
Frances de la Tour
Madame Olympe Maxime
Tom Felton
Draco Malfoy
Roger Lloyd-Pack
Barty Crouch, Sr.
Jason Isaacs
Lucius Malfoy
Eric Sykes
Frank Bryce
Timothy Spall
Wormtail
David Tennant
Bartemius 'Barty' Crouch Junior
Mark Williams
Arthur Weasley
James Phelps
Fred Weasley
Oliver Phelps
George Weasley
Bonnie Wright
Ginny Weasley
Jeff Rawle
Amos Diggory
Robert Hardy
Cornelius Fudge
Sheila Allen
Ministry Witch
Su Elliott
Ministry Witch
Anne Lacy
Ministry Witch
Flip Webster
Ministry Witch
David Sterne
Ministry Wizard
Christopher Whittingham
Ministry Wizard
Liam McKenna
Ministry Wizard
Campbell Graham
Ministry Wizard
Margery Mason
Food Trolley Lady
Katie Leung
Cho Chang
William Melling
Nigel
David Bradley
Argus Filch
Devon Murray
Seamus Finnigan
Afshan Azad
Padma Patil
Warwick Davis
Filius Flitwick
Shefali Chowdhury
Parvati Patil
Angelica Mandy
Gabrielle Delacour
Predrag Bjelac
Igor Karkaroff
Tolga Safer
Karkaroff's Aide
Alfie Enoch
Dean Thomas
Louis Doyle
Ernie MacMillan
Jamie Waylett
Vincent Crabbe
Charlotte Skeoch
Hannah Abbott
Robert Wilfort
Photographer
Tiana Benjamin
Angelina Johnson

Henry Lloyd-Hughes
Roger Davies
Jarvis Cocker
Band Lead Singer
Jonny Greenwood
Band Lead Guitar
Phil Selway
Band Drums
Steve Mackey
Band Bass Guitar
Jason Buckle
Band Rhythm Guitar
Steve Claydon
Band Keyboards
Shirley Henderson
Moaning Myrtle
Alan Watt
Assistant Judge
Adrian Rawlins
James Potter

Mike Newell
Director
Steve Kloves
Screenplay
J. K. Rowling
Novel
David Heyman
Producer
Patrick Doyle
Original Music Composer
Roger Pratt
Director of Photography
Mick Audsley
Editor
Mary Selway
Casting
Fiona Weir
Casting
Stuart Craig
Production Design
Mark Bartholomew
Art Direction
Alastair Bullock
Art Direction
Alan Gilmore
Art Direction
Gary Tomkins
Art Direction
Alexandra Walker
Art Direction
Stephanie McMillan
Set Decoration
Jany Temime
Costume Design
Eithne Fennel
Makeup Artist
Amanda Knight
Makeup Artist
Andrew Ackland-Snow
Art Direction
Dennis Leonard
Supervising Sound Editor
Adam Aldridge
Special Effects
Tim Alexander
Visual Effects
Lucy Allen
Stunts
Greg Powell
Stunt Coordinator